I encourage anyone that has more information (Flight Log Book entries) or photos on 112 Squadron please send an e-mail to raf_112_sqdn@yahoo.com before the history is lost.

RAF 112 Squadron Photos 1940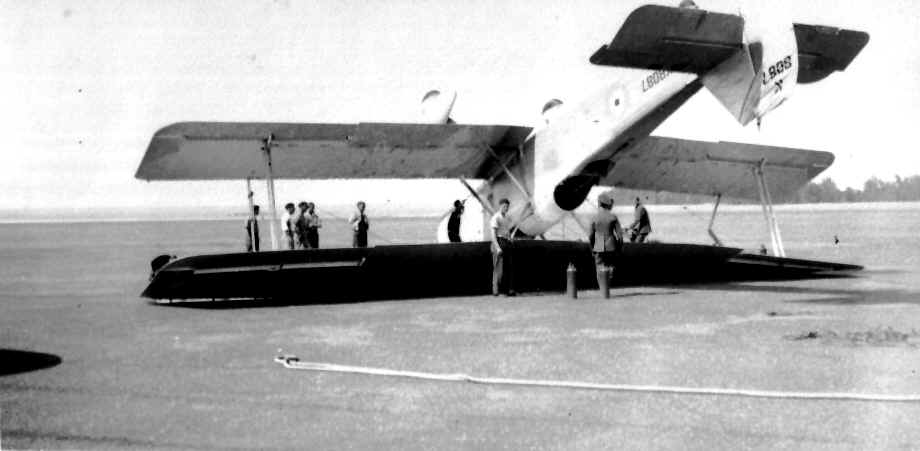 K8087 Looks like a Fairy Gordon ( its not see update) possibly the one Sgt Charles John Wilson Tait, 565362, RAF
and LAC G R McLennan, 539503, RAF, Drogue Towing Flight, nosed over on a force landing on an island in the Nile, Tait ok McLennan broke his wrist 14/01/40. Note the wheel spats covering the forward landing wheels not something very often seen on desert aircraft as they tended to get packed with sand and prevented the wheel from turning freely. They also had a tendency to "nose" into the sand flipping the plane over as this one is. This might have aided in this planes turning over. Also in the foreground a very large diameter rope could it have been used for drogue towing?
Sent in by Peter Izzard, Grandson of ground crew member Arthur Master
Update on above photo via RAF Commands Forum member DaveW
Rob

the a/c in the photograph is a Vildebeest IV, K8087 of 45 Squadron. It swung on landing and overturned at Ismailia 27/03/39. I suggest that the rope is laid out ready to right the a/c as it was apparently repaired and not struck off until Feb 1940

regards

DaveW

more from the internet Vickers Vildebeest IV: Vickers Type 286. 825 hp Bristol Pegasus VIII. Two-seat torpedo-bomber. Eighteen built for RAF; found unsuitable for overseas use through engine overheating

Hi

I was looking through my fathers log book (Mickey Ogden) for 1938. He flew 'J' K8087 at Filton (where he was a test pilot for the Bristol Aeroplane Company) on 12.9.1938 for 65 minutes. It did not mention the aircraft type but by doing a search on Google came across your website which show the same aircraft on it's back, a Wildebeest IV and the connection with Filton was the fact it was powered by a Bristol Pegasus VIII

Hope that is useful

Michael Ogden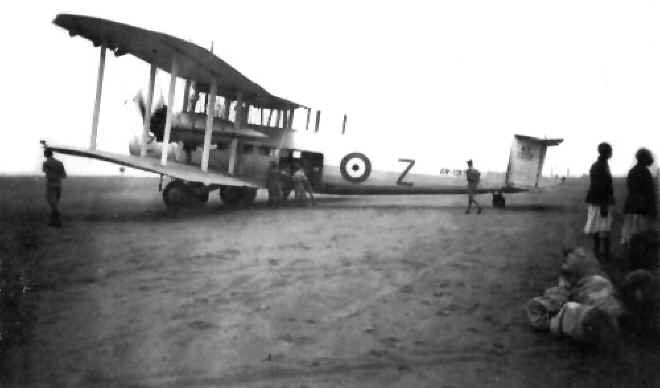 Vickers Valentia, KR1313 coded Z, possibly one of the 2 Valentia used by LXX (70) Sqdn,
that transferred the ground crew for RAF 112 Sqdn "K" Flight, to Summit on or about 2 June 1940.
The outbreak of World War 2 found LXX Sqdn equipped with the Vickers Valentia
in Nov 1935 until Sep 1940 and stationed at Helwan in Egypt.
Sent in by Peter Izzard, Grandson of RAF 112 Sqdn ground crew member Arthur Master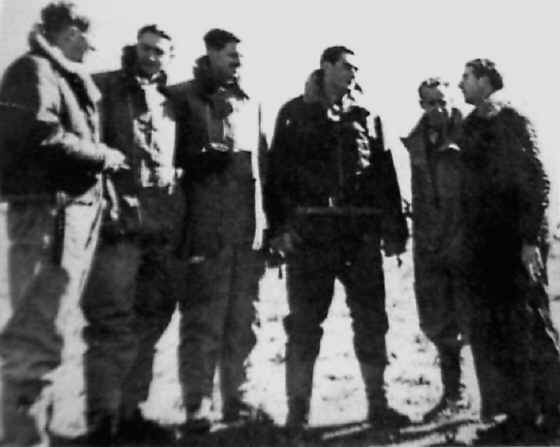 Members of "A" Flight in Greece left to right Fg Off Douglas Gordon Haig MacDonald, 42316

, RAF,

Fg Off Neville "Bowks" Bowker, NCO 779035, Fg Off Ephraim Hugh

"Brownie" Brown, 41777, RAF, Pilot Officer Jack Lawson "Tack" Groves, 42305, RAF, Plt Off Richard Alvin

"Acky" Ackworth, 40486, RAF and Pilot Officer Henry Willesly

"Jerry" Harrison, 40910, RAF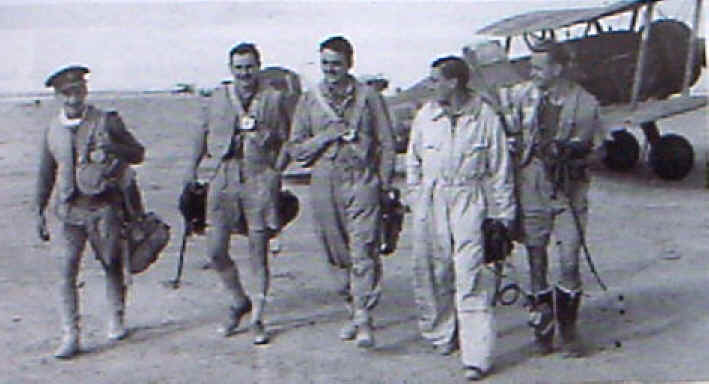 20 November 1940, left to right Flt Lt Richard James

Abrahams, Plt Off Alfred R Costello, Plt Off Leonard Lawrence 'Len Bartley, Fg Off R J

Bennet and Sgt George Millar 'Paddy' Donaldson, Publicity photo Ackworth was on leave so is missing from the picture 20 November 1940

The Gladiator might be L7620 RT C not confirmed
George Walton McKeag

, Service No 949125,

112 Sqdn maintenance,

Enlisted ?/ 02/40

N Africa, Greece (Yannina Aerodrome) , Crete, Cyprus,.

Commissioned to RAF Regiment 26/07/43, Standing on the Shore Line at lake Yannina.

Note the debris in the water

Photo contributed by his son Ian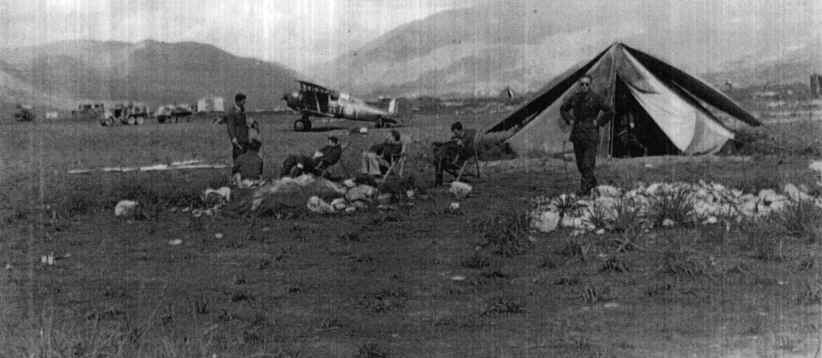 Taken 01/03/41, Paramythia, Greece, left to right Pete Brunton, Jerry Westenra, Smithy, Bowker ?, me (Acworth)?, Browne
standing Sgt Donaldson, "Jerry Harrison in the Standby tent, Gladiator RT-Y visible in the background but serial number unknown at this time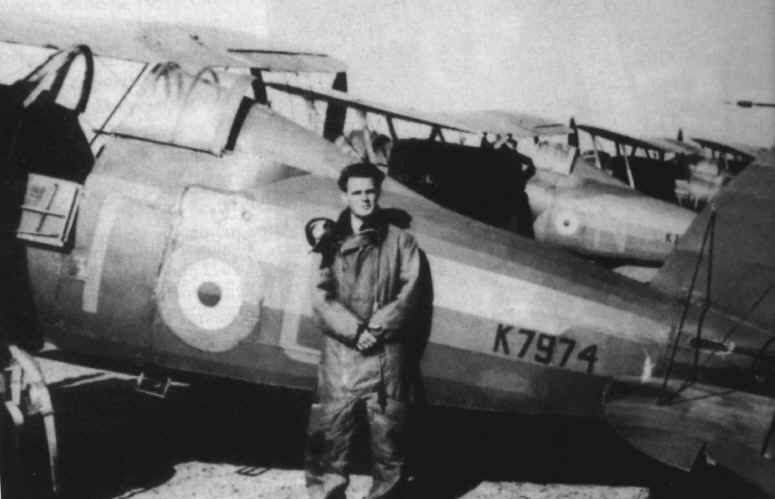 Gladiator K7974 coded RT O with Gladiator K7969 coded RT N in the background pilot appears to be Plt Off Leonard Lawrence 'Len' ( London Gazette spells 1st name Lenard) Bartley

42182

,

POW Crete escaped ,originally from Saskatoon Saskatchewan, Canada

Photo taken sometime after 1/5/40