I encourage anyone that has more information (Flight Log Book entries) or photos on 112 Squadron please send an e-mail to raf_112_sqdn@yahoo.com before the history is lost.

Internet Finds of RAF 112 Sqn Personnel
S
T to Z
The Americans, New Zealanders, The Polish
Sgt Charles John Wilson Tait, pilot, 565362, RAF, 3/1/40 to 18/6/1940, KIFA
Son of John Wilson and Rosa Matilda Tait, of Edinburgh.
Age 25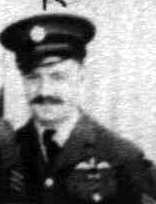 Photo supplied by Patricia Molloy daughter of J. F. Fraser
Son of John Wilson and Rosa Matilda Tait, of Edinburgh. One way in which the RAF Sports Board was to give considerable assistance, was in the provision of badly needed trophies. Over the years they have kindly donated seven trophies. One of the most treasured is the Sergeant Tait silver loving cup. Sergeant C J W Tait was killed on active service in 1940 serving with No 112 Squadron. To commemorate his death his mother gave the cup to the Sports Board who considered badminton an appropriate sport. The Sergeant Tait cup has been in constant use every since. Mrs Tait was kept informed of the competition results until her death and after that the Association corresponded with her niece until contact was finally lost with the family in 1974.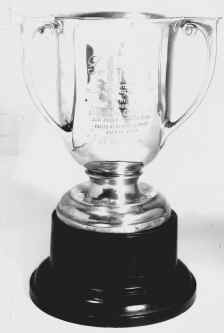 I have looked through the archive photos and have found a picture taken in approx 1950 -

I have scanned it and attached it as a .pdf so you can link it in a website or print off for your documents

Kindest Regards

Carl Payne

Chf Tech
LAIPT SM (IBM) SSM 1a1
MOD LITS, Central Management Facility
IBM (UK) Ltd, Warwick, CV34 5JL

John Robert Tate was a fitter-armourer in the squadron, possibly in Italy - as his son recalls he spoke

the most of his time in Italy during the war.

Taussig, Kurt, (unconfirmed 163112) from 28/8/45 to 20/9/45

Prior service with 225 Squadron

North West Evening Mail

Honour for 100-year-old heroine of war
Published on 27/04/2007

A FORMER Grammar School teacher was reunited with one of the wartime evacuees she gave a home to as part of her 100th birthday celebrations.
Winifred Dean was presented with two certificates by Kurt Taussig at St George's Nursing Home on her birthday yesterday.
Kurt and his younger brother Karl, both Czechoslovakian Jews, were taken in by Winifred and her late husband, William, in 1938, aged 14 and 16.
The boys were among 10,000 children evacuated under the Kinder transport organization.
This was at the request of Miss Jessie Hillier, a senior mistress at the Barrow Girls Grammar School, where Mrs. Dean taught French from 1930 to 1967, who was their sponsor and guardian.
Mrs. Dean's niece, Hélène Hopper, of Orchard Avenue, Barrow, said: "The boys' 18-year-old brother, Erik, got them out and then he went underground.
"He went to Vienna and spent the whole war there.
"The brothers were eventually reunited in London.
"At 18 Kurt volunteered for the air force and he was a Spitfire pilot.
"Karl was with Winifred until he was 18."
The first certificate presented to Mrs. Dean was from Sir Nicholas Winton, MBE, whose idea it was to rescue the children.
The second was from the Kinder transport organization itself, saying "Thank you".
For a number of years after retiring Mrs. Dean worked as a volunteer in the Oxfam shop in Dalton Road, Barrow.
She enjoyed crocheting blankets which were sent to people in poverty overseas.
Relatives and close friends were also with her to celebrate her centenary

TAYLOR, Anthony (Tony) Knowles, Serv

ice No.328249 Flt Lt SAAF and 112 Squadron RAF WWII



Anthony Knowles (Tony). No.328249 Flt Lt SAAF and 112 Squadron RAF WWII).

On Tuesday, 11 January 2005, at home; in his 81st year. Dearly loved husband of Clare, father of

Judy, Lynn and Kathleen,

father-in-law of Ross, Mannie and Laurence. Loving Grandpa of Robyn, Alistair, Fiona, Dael, Andrew, Guy, Philip and Jenny.

A service for Tony will be held at 11.00am, on Friday 14 January 2005, in the Howick RSA Clubrooms,

25 Wellington St, Howick, to be followed by private cremation.

In lieu of flowers donations to the South Auckland Hospice,

PO Box 75560, Manurewa would be appreciated.

Tilton Opie & Pattinson, FDANZ Howick 534-2704 Published Thursday, January 13 2005




Flight Lieutenant Stanley Edward Thomson, 406604, RAAF,

not confirmed as the right man for 112 Sqdn, An S Thompson or

Thomson served with 112 Sqdn from ? / 4/41 to ? /5/41 as Cyper Officer

Stanley Edward Thomson, 406604, RAAF he enlisted 3 Feb 1941 at PERTH, WA

and was a POW, discharged 15 Jan 1946

My father (Jim Tunnah, from Edinburgh, Scotland) served in 112 squadron in WWII. Unfortunately he

died just before his 80th birthday in 2001, but in going through my fathers papers I came across a few

things, including a record of his travels with 112 squadron written into the cover of an RAF New

Testament bible he had kept from that time.

His number was 1374022 - he still remembered this without difficulty!

J Tunnah Jim and the dog Prince ? Jim and friends on leave

He was at Halton (England) from April to August 1941, Shrewsbury from August to February 1942, and

Worcester from February to April 1942.
He set sail from Britain on 12th April 1942 and arrived at Durban (Africa) where he stayed from May to June 1942.
He was in Egypt in June 1942, Palestine in July 1942, El Alamein in September 1942, and Tobruk in November 1942.
In January 1943 he was in Tripoli, in March 1943 he was in Tunisia, then on to Italy in September 1943.
He remained in Italy until December 9th 1945 when he returned home to Edinburgh.

His rank was LAC and he was occasionally involved in 'Search and Recovery' missions. The team he was in would go

into the desert to recover planes (of either side) to attempt to repair and fly back to base, or salvage as much as

possible before destroying the rest. Sometimes in doing this he ended up behind enemy lines.

I also came across quite a few photographs which date from this time, many taken by my father and his friends, as

well as a few recovered from enemy camps that were over-run. These include general aircraft and squadron people

shots as well as photos of Montgomery, Churchill, Rommel and Mussolini. I intend to copy these by scanning to disk

so that the other members of my family can have copies. If you wish a copy for your archives, please let me know

and I will send you a set on CD or email. However, there are a lot and they are not catalogued, so it may be a while

Geordie Moore Len Phillips Sam (last name unknown) Sam again


Are you aware of the 112 Squadron association (contact David Musther at musther@mcmail.com )?
They produce newsletters and organize reunions of the Squadron, admittedly in England. Also the book

'They Flew Through Sand' has a lot of information about the squadron.
Also, see below for a British War Museum contact for video of the squadron at around this time.
Drop me an email for more information.

Regards,

Chris Tunnah


Dear Sir

Thank you for your very interesting mail. I have done a quick search for you an as yet have only found a roughly edited version of this film without sound. I will find out if we have a full copy on Monday as I am out of the office tomorrow.
You may be interested in the other items we have on this famous unit and details follow herewith. We can make video copies of films at a cost of £15.00 for one reel and £5.00 for subsequent reels copied. We would also ask you to supply a blank cassette.
If you have any queries please let me know.

Yours sincerely
Brad King


FILMS HELD:

Film Number WPN 29
Film Title WAR PICTORIAL NEWS NO 29 [main]

Production Date 20/10/1941
Production Country GB
Production Sponsor Ministry of Information, Middle East

Production Company War Pictorial News

I. 'RAF SHARK FIGHTER SQUADRON.' RAF ground crews load 50-inch bullets into the nose-mounted

Browning machine guns of a Curtiss Tomahawk fighter aircraft of 112 Squadron RAF, which bears "sharks mouth"
insignia around its air intake and filter. The Squadron's mascot, the dog "Prince", is passed from hand to hand and

jokingly placed in the Tomahawks capacious air intake below its propeller. RAF pilots run from an operations tent and

collect parachutes from the bonnet of a parked lorry during a Squadron scramble. A pilot, burdened by his parachute
climbs into the cockpit of his Tomahawk as its Allison engine is started. RAF Curtiss Tomahawk fighters perform a

Squadron take off from a rough desert airstrip, one aircraft bearing the legend "Menace" on the side of its fuselage

(Squadron codes not visible). Air to air footage follows, with the Tomahawks making mock firing passes at the
camera aircraft.

About 3 minutes of a 10 minute newsreel.


Brad King
Public Services Officer
Film and Video Archive



Prince in Tomahawk Intake Rearming Tomahawk named Menace
*****************************************************
Plt Off P. R. M. Van der Heijden, 40190, RAF, 16/5/39 to 28/7/40, injured and posted out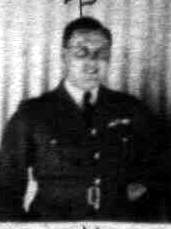 Photo supplied by Patricia Molloy daughter of J. F. Fraser
RESERVE COLONEL DANIEL LE ROY DU VIVIER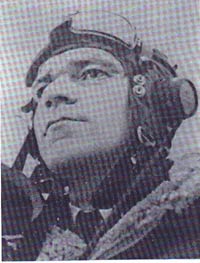 Reserve Colonel Daniel Le Roy du Vivier was born in Amersfoort (Holland) on January 13 1915 from a Belgian
father and Dutch mother. On April 13 1943 he is attached to he Middle East Command Headquarters.On the Middle
East front Le Roy du Vivier takes command of the 239 Fighter Bomber Wing Tunis-Sicily composed of the 1 South
African Sqn , the 3 and 450 Australian Sqn's and the 112 and 260 British Sqn's. He his appointed as Superior
Officer responsible for the operations at the 324 Fighter Wing composed of the 43 , 72 , 93 , 111 and 601 Sqn's.
Le Roy du Vivier died in a car accident on September 2 1981…….
Captain Servaas de K. Viljoen, SAAF no. 102785V
Viljoen served in 1 SAAF Squadron in May – June 1940 before being posted on attachment to 112 Squadron on
19 June 1940.He left 112 Squadron in July 1940 and returned to 1 SAAF Squadron. This unit operated over
Eritrea from July 1940 and was initially equipped with Gloster Gladiators

****************************************************************************************
WALKER, F/O James Arthur (40768) - Distinguished Flying Cross - No.111 Squadron
Awarded as per London Gazette dated 6 September 1940.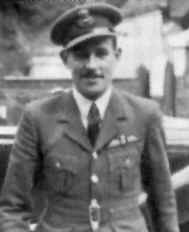 James Arthur "Jimmy or Johnnie" Walker DFC, 40768, RCAF,


This officer has shown himself to be a keen and steady pilot and has displayed magnificent courage in the face of superior numbers of enemy aircraft. Since the middle of May he has shot down at least six enemy aircraft.

NOTE: Public Record Office Air 2/9456 has original recommendation dated 17 August 1940 which does not differ materially from the above. It was endorsed and supported by Air Vice-Marshal Keith Park, Air Officer Commanding, No.11 Group, on 22 August 1940 and approved by Air Chief Marshal Hugh Dowding on 24 August 1940.

Son of George Henry and Edith Walker, of Gleichen, Alberta
Born in Gleichen, Alberta, 1918;
Educated there.
Appointed Acting P/O on Probation, RAF, 7 May 1938.
Served in No.111 Squadron, outbreak of war to
25 April 1941 when posted to No.57 OTU;
posted to No.94 Squadron, 24 April 1942 to 31/5/42

posted to No 112 Squadron from 6/6/42 to 22/7/42

posted as CO of 250 Squadron, until September 1943
also served with 603, 610, &31 Sqs
killed 8 February 1944 in India

WALKER, JAMES ARTHUR S/L (P) 40768 D.F.C. & Bar - Royal Air Force. From Gleichen. Alberta. Killed In Action Feb.8/44 age 25. #31 Squadron (In Caelum Indicum Primus). S/L. Walker was an ace, credited with destroying 6 and one shared enemy aircraft. He was in the Battles of France and Britain and was with #111 Squadron flying Hurricane aircraft over Dunkirk when he shot down four aircraft in May and June, and three more in August of 1940. S/L. Walker flew Spitfire aircraft with #610 Squadron and was assigned to the Middle East with #94 Squadron to fly Hurricanes in 1941; in 1943 he went to India to Command #31 Squadron. One of the Sqdn. pilots ex F/O. Andy Russel D.F.C. of Indian Head, Saskatchewan recalls the following, "S/L Walker's instructions in what to do in case they were attacked were, "dive for the ground in all directions." When Japanese Zero fighter aircraft attacked the Squadron every pilot followed instructions except Walker, who stayed up there flying his Dakota aircraft in circles so the rest of us could escape, he should have got the V.C. for his sacrifice." S/L. Walker and his brother George were two of the very few brothers who were each awarded a D.F.C. George earned his D.F.C. in early 1940 before his #58 Squadron Whitley aircraft was shot down and he was taken Prisoner Of War. He was shot down a week before he was to be married. George died in 1982. Squadron Leader Pilot Walker has no known grave, his name is inscribed on the Singapore War Memorial, Malaya.

quoted from "They Shall Not Grow Old" by Les Allison & Harry Hayward

Flt Sgt Kenneth Crawford Warburton, 1435351, RAF 112 Sqdn, 31/12/43 to 07/04/44, POW A/C shot down near Rieti Landing Ground 1710 hours, took off at 16:20hrs as part of 12 aircraft formation on Armed Recce of Terni Area. Whilst approaching Rieti LG the formation spotted approx 12 Fw190 aircraft on the ground with 2 taking off and 3 more already airborne. A General battle ensued with this aircraft not being seen after the initial attack either being shot down by AA fire or by a FW190.,pilot POW, None of 112's pilots saw F/S Warburton shot down but his loss is timed at 17.10, perhaps from his last W/T message and so Maikranz or Ochs may have been responsible.Fw. Maikranz, 3./SG 4, 10 km. E. Rieti A/F at 300 m. at 1711 hours or Uffz. Ochs, 1./SG 4, 6 km. S.W. Rieti A/F at 10 m. 1711 hours

Dear Rob

I'm awfully sorry but I'm afraid my mother threw away all Slim's postcards home after my Grandmother died in 1976.

I do remember them - there were no letters, only postcards and I seem to recall that they were all written in a puce

coloured lead with lots of crossings out in black by the censor. Slim's Christian names were Kenneth Crawford and

he got called Slim on his return from POW camp (Stalagluft something but I can't recall the number - I was only

about 10 when I read them). Sorry.

Regards, Peta

Photos supplied by Peta Wooley: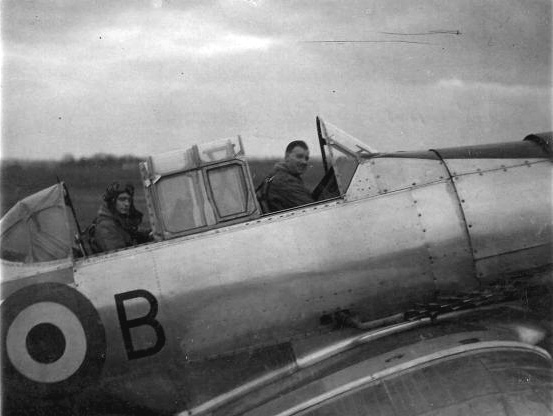 Slim sitting in the back but on the reverse he's written Master Pilot A.W. Smith. Norm 6FTS Ternhill, Market Drayton, Salop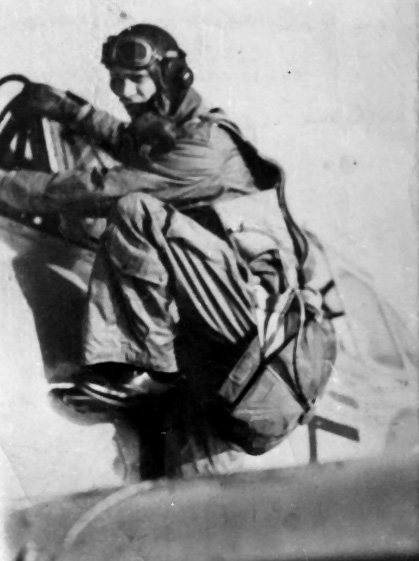 "Slim" possibly Syuka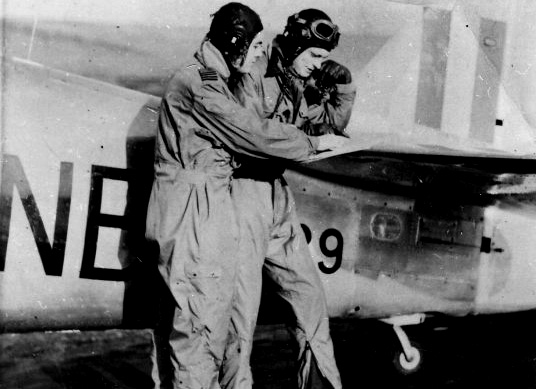 Training somewhere near Port Elizabeth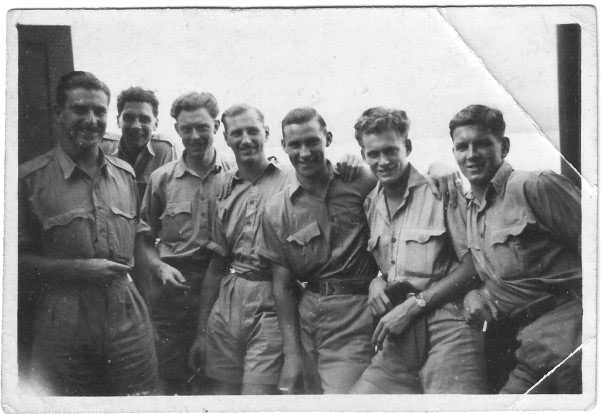 Barney, Robbie, Ghost, Verne, Hoppy, Self and Tommy. It would be nice to identify them. Must have been taken somewhere in Africa, judging by their dress and Slim is not yet burned.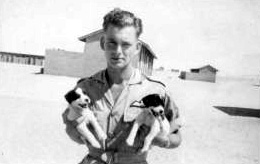 Slim Eygpt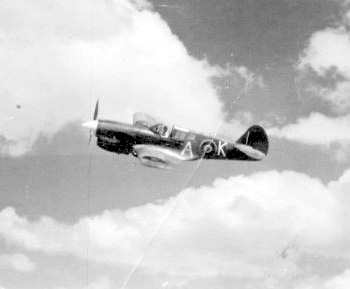 FR857 eventually became GA-V this must be an early picture of it as the nose cone appears white this may also be GA-V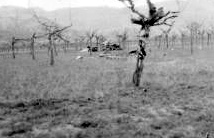 Crash picture of FR857 taken by the German Engineer that rescued "Slim" after his being brought down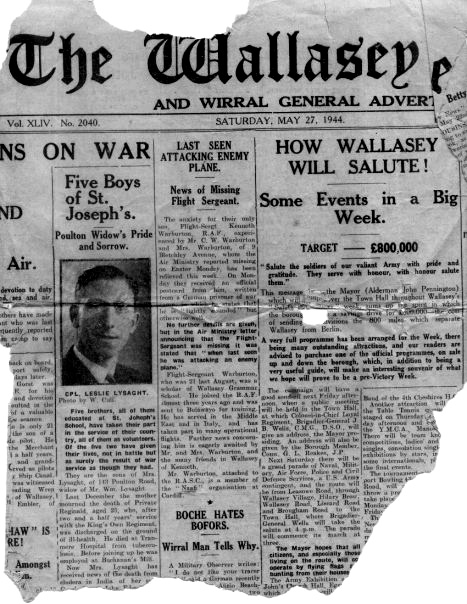 Newspaper is The Wallasey News, Saturday May 27th 1944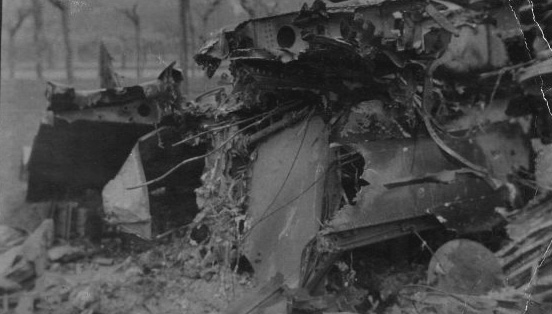 Crash picture of FR857 taken by the German Engineer that rescued "Slim" after his being brought down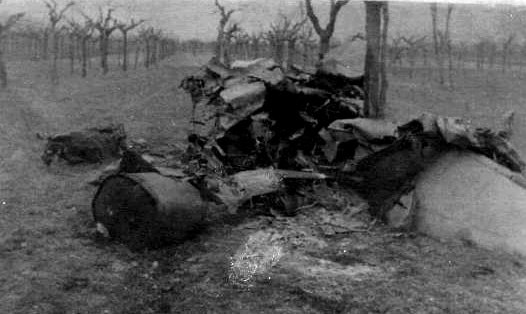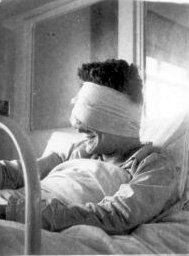 Slim after crash Italy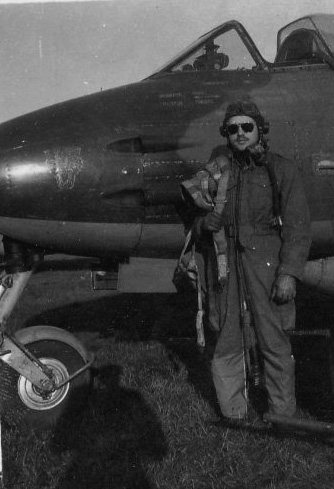 On the back of this picture given to "Slim" is written, "Had to wear glasses to keep my eyes in. Your chum Brad"
SQUADRON LEADER Walter Kenneth WATTS , 400827, RAAF, DFC POW
LAC2 Jack (Jock) S Watson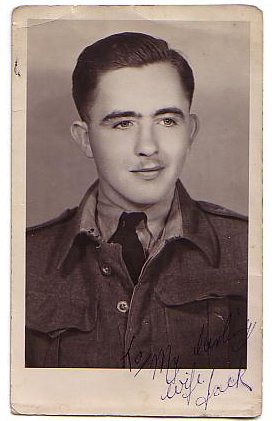 LAC2 Jack (Jock) S Watson
Contributed by Ian Stevenson
In relation to a description, I am still waiting for his service record from RAF Innsworth and can give little information about his role or what he actually did. He was very reluctant to talk about the war when I was growing up and died in 1981 when I was 16. It is only recently that I have taken a much bigger interest in our family history but I have found it difficult to find out much about him to date.
I do know he was born in Edinburgh on 22/12/1922 and joined the RAF not long after the war started. He was seriously injured somewhere in North Africa and I believe it happened sometime in 1942 (research note 25th May 1942: We escorted the "Kitty's" of 112 Squadron which were bombing invasion barges in Mengola Bay.9.00pm saw the beginning of a raid that lasted all night long. Heinkels and Stukas dropped flares and bombs by the hundred, including dozens of delayed action bombs.
There main targets were the Tobruk road and the railway line as well as the 'drome at Gambut. Jerry seems to be a rotten shot though as damage was about nil.
After the bombing of last night six Macchi's straffed 112 and 250 Squadrons' tent areas. Three ground crew were wounded. Not long after that four Heinkels escorted by 109E's dive bombed Gambut Main with anti- personnel bombs. Results were not so good for Jerry as all four bombers and two ME109's were shot down by ack-ack and fighters.

) when he was serving as ground crew (LAC2) with 112 Squadron. Quite what his role was I am not sure, but I hope to find out all these details with the advent of his service record.

My grandmother (his wife) is also sadly not with us any more but she related that his injuries were caused when German fighters strafed the airfield they were located at and he took a number of rounds in the chest as he dived for a slit trench. As a result of the injuries he was taken to South Africa and lost a large portion of one lung and a small piece of the other. By all accounts it was a miracle he survived at all.

His death on 9th May 1981 was directly attributed to the injuries he received during the war and my grandmother was awarded a war widows pension.

Your website is a little gem that I had hitherto not found. I am sure it is of great interest to veterans and relatives alike and, should anyone remember him, I would love to hear from them.
Please note my new e-mail address (ian@carlian.plus.com) as the other one is soon to be deleted. Once I have more information, I will gladly share it with you.
Photos supplied by his relative Jacqueline Hill
Sgt Raymond Webb, RAFVR, 1313162, 112 Squadron, he came from Keinton Mandeville,
Somerset. He was a pilot and was KIA, over the desert in Egypt, on 7th Nov. 1942
Pilot Officer Stanley Anton 'Stan' Wells, RAF nos. 779025 (NCO), 89781 (Officer)
1911 – 27 September 1941
Stan Wells, from Weston, Ontario, was born in 1911.
He enlisted in the RAFVR in the Middle East in early summer 1940.
On completion of flying training he was commissioned on 9 November, joining 'K' Flight in East Africa.
In February 1941 'K' Flight was based at Mersa Taclai and equipped with Gloster Gladiators.
On the 26 February Wells had been patrolling over Kub-Kub, when army personnel on the ground drew his
attention to two CR.32s, which were flying above him and oblivious to his attention. Climbing up below them, he
attacked one and shot it down over Keren in full view of the troops on the ground.
'K' Flight became the nucleus of 250 Squadron when this unit was formed in May 1941. This unit served in the
Western Desert

Derek Fitzgerald Westenra, 89782 RAFVR, 112, 601, 93 & 65 Sqn,

Rumor has it he started the Shark mouth design on the 112

Sqdn planes, but he would be the first to tell you

it was Pete Brunton's idea

London Gazette issue, 35514, 3 April 1942, page 2 of 4

Distinguished Flying Cross. Acting Flight Lieutenant Derrick Fitzgerald WESTENRA (89782),

Royal Air Force Volunteer Reserve, No. 112 Squadron.

Claims:

| | | | | | | | | |
| --- | --- | --- | --- | --- | --- | --- | --- | --- |
| Kill no. | Date | Number | Type | Result | Plane type | Serial no. | Locality | Unit |
| | 1941 | | | | | | | |
| 1 | 11/03/41 | 1 | G.50 (a) | Destroyed | Gladiator II | | Boussi area, Greece | 112 Squadron |
| | 05/05/41 | 1 | Ju88 | Damaged | Gladiator II | | Heraklion, Crete | 112 Squadron |
| | 13/05/41 | 1 | Bf110 (b) | Damaged | Gladiator II | | Heraklion, Crete | 112 Squadron |
| 2 | 14/05/41 | 1 | Bf110 (c) | Destroyed | Gladiator II | | Heraklion, Crete | 112 Squadron |
| | 25/11/41 | 1 | G.50 | Probable | Tomahawk IIb | AN303 | Sidi Rezegh area | 112 Squadron |
| 3 | 04/12/41 | 1 | G.50 | Destroyed | Tomahawk IIb | | El Adem-Tobruk | 112 Squadron |
| 4 | 04/12/41 | 1 | G.50 | Destroyed | Tomahawk IIb | | El Adem-Tobruk | 112 Squadron |
| | 22/12/41 | ½ | Ju87 | Shared destroyed | Tomahawk IIb | AN303 | Magrun airfield | 112 Squadron |
| | 22/12/41 | 1 | Ju87 | Damaged | Tomahawk IIb | AN303 | Magrun airfield | 112 Squadron |
| | 1942 | | | | | | | |
| 5 | 08/03/42 | 1 | MC.200 | Destroyed | Kittyhawk Ia | AK762 | Tobruk area | 112 Squadron |
| | 1943 | | | | | | | |
| | 14/01/43 | 1 | Bf109 | Damaged | Spitfire Vc | ER280 | NW Ghaddahia | 601 Squadron |
| | 01/05/43 | 1 | Bf109 | Probable | Spitfire Vc | EP693 | Cap Bon | 601 Squadron |
| | 04/05/43 | ½ | Bf109 | Shared destroyed | Spitfire Vc | EP693 | Kelibia | 601 Squadron |
| 6 | 05/05/43 | 1 | Bf109 | Destroyed | Spitfire Vc | EP693 | Cap Bon area | 601 Squadron |
| | 1944 | | | | | | | |
| | 17/05/44 | 1/3 | Bf109 | Shared destroyed | Mustang III | ER280 | Aalborg area | 65 Squadron |
| 7 | 17/05/44 | 1 | Ju88 | Destroyed | Mustang III | ER280 | Aalborg area | 65 Squadron |
| 8 | 08/06/44 | 1 | Fw190 | Destroyed | Mustang III | FZ120 | Gace_Dreux | 65 Squadron |
A farmer, born in Christchurch on 29 April 1918, Westenra joined the RNZAF in February 1940, and transferred into the RAF late in 1940.

Westenra joined 112 Squadron in Greece in early 1941 to fly Gladiators against the Italian invaders. On 17 March he

destroyed a Fiat G50. After the Germans joined in the military situation deteriorated and the British forces were

withdrawn. Westenra was one of the few pilots who survived to cover the evacuation. The unit moved to Crete in

May 1941 and in one of the few combats which took place Westenra, flying a Hurricane, shot down a Bf 110 on the

15th. Soon afterwards 112 Squadron retired to Palestine and then moved to the Canal Zone in Egypt where it re-

equipped with Curtiss Tomahawks.

On 18 May 1941 two Hurricanes and two Gladiators from Heraklion were airborne and after an air attack on this field

they were ordered to land instead at Retimo. The remaining Hurricane and Gladiators at Heraklion were no longer

flyable. On arrival at Retimo the four pilots were ordered to evacuate to Egypt, and after refuelling, all took of.

Flying Officer A R Costello and Sergeant W Bain flew the two Hurricanes, Flight Lieutenant Dennant and Pilot

Officer Westenra the Gladiators. All arrived safely.

The unit retired to Palestine and then moved to the Canal Zone in Egypt where it re-equipped with Tomahawks.

He flew in the Western Desert where he became a flight commander late in 1941. He is reputed to have been the

instigator of the painting of the famous 'Sharks' Teeth' on the squadron's aircraft.

As the campaign in the Western Desert developed the squadron took part in the defence of Tobruk and later flew in

support of the Eighth Army, carrying out sweeps over enemy airfields. Westenra probably destroyed a CR 42 on

25 November and while escorting Blenheims bombing enemy columns on the Capuzzo road on 4 December he shot

down two Fiat G50s. Later in the month he shared in the destruction of a Ju 87 and was leading the squadron when it

destroyed or damaged fifteen German and Italian aircraft on the enemy airfield at Magrun. Westenra was awarded the

DFC about this time.

In January 1942 the Tomahawks were replaced by Kittyhawks and shortly afterwards Westenra led an attack against

German armour during the Eighth Army retreat to Gazala in the course of which six vehicles and a tank were destroyed

or damaged. On 8 March 1942 he led his flight on a patrol of the forward area and encountered 15 Ju 87s, escorted

by Bf 109s and Macchi 200s. Westenra shot down one of the Italian fighters.He was awarded a DFC in March 1942

for five victories, his tour with 112 Sqn then ending

In early January 1943 he joined 601 Squadron, then pursuing Rommel's retreating troops. He damaged a Bf 109 on

14 January, probably destroyed another on 1 May and had another confirmed four days later.

In September 1943 Westenra took command of 93 Squadron in Sicily, On 1 January 1944, he transferred back to the

RNZAF, He later led it across to Italy and remained with i93 Sqn until February 1944, when he returned to the

United Kingdom and was given command of 65 Squadron in March 1944. Equipped with Mustangs, 65 carried out

long-range sweeps and bomber-escorts. From May 1944 the unit began to carry out bombing sorties in addition to its

other activities. Westenra shot down an FW 190 on 3 June 1944 during a 'Ranger' sortie over Denmark. Near the

German airfield at Aalborg they met German fighters and engaged in a battle which began at high level and finished at

low altitude. Eight enemy aircraft were claimed as destroyed for the loss of two squadron pilots.

When he handed over command in July 1944 Westenra was awarded a Bar to the DFC. At the war's end he was

credited with eleven victories

Jerry Westenra passed away at Omokoroa on 17 August 1999.
Group Captain George Westlake, CO 239 Wing during Operation Bowler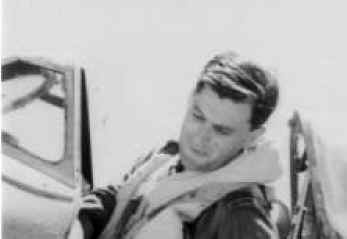 Group Captain George Westlake, who has died aged 87, was the leader of the brilliantly executed Operation Bowler, the bombing of shipping in the docks at Venice and the only authorized wartime air attack against the Italian city. Burt Horden writes about this day in his book "Shark Squadron".
With the destruction of the rail and road network in northern Italy by early 1945, the Germans resorted to transporting desperately needed supplies by ship to Venice for onward distribution by canal and river craft. In March that year authority was given to attack the port of Venice - there were strict instructions that there must be no damage to the historic buildings and fabric of the city, which lay just outside the dock's boundary.
The operation's codename was the idea of the Air Officer Commanding, Air Vice Marshal "Pussy" Foster, who anticipated being "bowler hatted" (dismissed from the service) should the city suffer any damage.
Westlake was leader of No 239 Wing, a mixture of Kittyhawk and Mustang squadrons specializing in dive-bombing operations. During the afternoon of March 21, flying a Kittyhawk of No 250 Squadron, he led 64 aircraft on the attack. Twenty-four fighters of the USAAF were also attached to his formation, with a Spitfire squadron providing an escort.
Within a few yards of the dock area were churches and housing; beyond lay a large population and centuries worth of noble buildings and works of art. Once over the target, Westlake assessed that the weather was suitable and he ordered some of the Mustangs and the American fighters to attack the gun defenses as he dived almost vertically from 10,000 ft with his four squadrons following him into the attack.
The results were spectacular: a large cargo ship was seriously damaged and left listing, and a number of smaller vessels and naval escorts destroyed. As the last of the Mustangs pulled away there was a huge explosion as a store of sea mines was hit.
The local Italian population stood on nearby rooftops just outside the target area watching the specttacolo with great enthusiasm and admiration. The AOC was equally impressed, and sent a signal of congratulation, relieved that he had avoided a bowler hat. Westlake was awarded the DSO for his "excellent leadership, great tactical ability and exceptional determination".
George Herbert Westlake was born on April 21 1918 at Rangoon, where his father was the harbourmaster. He was educated at Shoreham School and de Havilland Aeronautical Technical School. In 1937 he joined the RAF Volunteer Reserve and began training as a pilot. At the outbreak of war he was called up and soon completed his flying course, when he was commissioned.
After a brief spell instructing other pilots Westlake joined No 213 Squadron, flying Hurricanes during the closing stages of the Battle of Britain. Within a few weeks he had his first success, shooting down a Messerschmitt Bf 109 south of Selsey Bill on November 15 1940.
Six months later No 213 embarked in the aircraft carrier Furious and headed for the Mediterranean. On May 21 his squadron took off from the ship and set off for Malta, 800 miles away. After a hasty lunch, Westlake and his fellow pilots were airborne again, and three hours later landed at Mersah Matruh, in Egypt. In their single-engine aircraft, they had been airborne for almost eight hours, all entirely over the sea.
Within a few days Westlake was detached to No 80 Squadron, operating in Syria. He was soon in action against the Vichy-French Air Force, and in the space of a few days had shot down a bomber and shared in the destruction of two fighters. Once the air threat had been reduced, Westlake attacked airfields and road convoys as the Vichy forces retreated. At the end of the brief campaign he left for Nicosia, where he rejoined No 213.
On July 18 1941 Junkers 88 bombers appeared over the airfield, and Westlake was scrambled to intercept them. He caught one 80 miles off the coast and, in full view of a small Cypriot fishing fleet, he chased it at very low level and shot it down. The Governor of the island gave him a bottle of whisky with the promise of a crate if he repeated his success. In August Westlake shot down an Italian bomber, which crashed near Capo Greco, the first enemy aircraft to fall on the island. Unfortunately for Westlake, the Governor had left the island the day before - but he did receive a tankard.
In December No 213 left for the Western Desert, where it was involved in fierce fighting. Westlake was made flight commander and, during the next few months, he shot down five more aircraft and damaged three others. After almost two years of continuous action (during which his aircraft was never hit by the enemy) he left the squadron in the autumn of 1942, when he was awarded the DFC.
Westlake joined No 211 Group of the Desert Air Force as a fighter operations controller and moved forward with the advance to Tunisia. He was involved in planning air support for the invasions of Sicily and Italy before taking command of a mobile operations room as a wing commander, landing in Sicily two days after the troops had gone ashore. Anxious to return to flying, he dropped a rank in order to command one of the first Italian squadrons to fight alongside the Allies, No 4 Stormo, flying the Airacobra on ground attack operations. That month he was appointed to lead No 239 Wing.
Westlake remained in the RAF after the war. He specialized in fighter operations, serving at HQ 12 Group before filling an exchange posting with the USAF at HQ Air Defense Command, Colorado Springs. After commanding the Southern Sector of the UK Air Defence Region, he spent two years at RAF Geilenkirchen in Germany as the wing commander in charge of flying. In 1961 he was promoted to group captain and commanded the RAF's northern fighter control station at Buchan, near Peterhead
During the Indonesia Confrontation campaign, Westlake coordinated air defense operations at HQ Far East Air Force. At the end of 1967 he returned to Britain responsible for flying activities at Signals Command before retiring from the RAF in July 1969.
Westlake spent a number of years in Kuwait, which he much enjoyed, working as the aviation consultant, then manager, of Abdulla Al Rifai and Sons, agents for numerous large British aerospace and engineering companies. He retired to Cyprus, but returned to England in 1994.
Westlake was an expert fly-fisherman and an accomplished artist with a particular aptitude for sketching buildings. With very forthright, sometimes blunt, views, he was excellent company.
In later life his mobility was severely restricted, but he took to an electrically-powered tricycle to travel around Stratford-upon-Avon, where he lived. One neighbour commented that "he drove with verve and great abandon, as if he was still
in his fighter aircraft. We all stepped back when we heard him coming."
George Westlake died on January 18. His marriage ended in divorce. His son, a former RAF Harrier pilot, and his daughter survive him.
John William Wheelhouse, was in the RAF, in 112 Squadron he was their cook he was from Bradford ,
Yorkshire, England and had a daughter Brenda (Martin) and a granddaughter Jacqueline (Martin) was living in
Southport and is a primary teacher.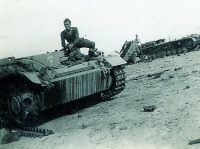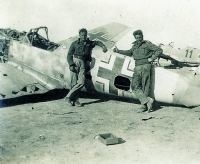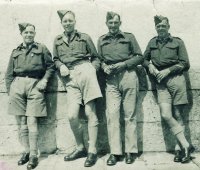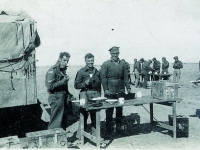 1. Debris of war: tanks in the western desert.
2. Photo opportunity: downed enemy plane.
3. A postcard home: John William Wheelhouse (second right).
4. The campaign kitchen: John William Wheelhouse (far right).
5. Paying last respects: burying the pilots shot down over the desert.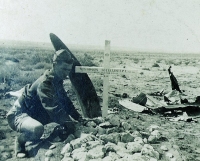 LT Micheal Grant White. South African Air Force 75645V

, 6 Dec 1943 to 3 May 1944, RAF 112 Sqdn KIA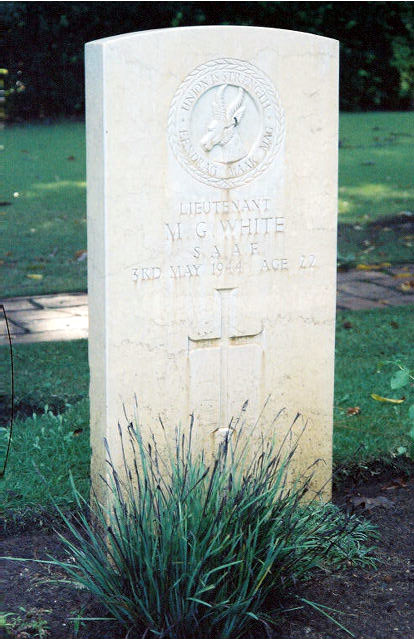 Bernie Peters was flying with Mike in a dog-fight with the Luftwaffe on April 7th, 44, near Rieti in central Italy. At one point in that skirmish, Dad claimed that he and Mike were the only two of their flight remaining, against about 6 FW190s.
On the day Lt White died, (3 May 1944, on his 22nd birthday), he was one of 12 pilots of 112 squadron (including Bernie Peters), heading out on another operational flight. Bernie Peters' log book entry that day says, "viaduct north east of Rieti. Flight time: 2hrs 10 minutes. I got a direct hit and returned quickly with engine trouble. 20+ 190s and 109s attacked three of our gaggle. Mike White missing." These log book entries are always extremely brief - only 1 or 2 lines of space were available - even though they often deal with such momentous events. To translate the above (with the benefit of Dad's recollections): the squadron were on a bombing operation - aimed at the viaduct. Dad's bomb scored a "direct hit", but his plane then developed engine trouble -so he went home early. Because of this, he wasnt around when the "20 plus" German fock-wulf 190s and Me109s attacked "three of our gaggle" [=three planes of our flight]. Mike White must have been one of the three.
William Mitchell "Babe" Whitamore DFC, 102107, RAFVR, 66, 92, 112, 601 & 81Sqn; KIA 1944 victories 9.5

Whitamore joined the RAFVR in 1940, being posted to 66 Squadron in May 1941, and then a month later to
92 Squadron. He then went with this unit to North Africa, where in May 1942 he was instructed to move to 112
Squadron. He then went back to Spits, serving with 601, 244WTF, 601 again and finally 81 Squadron. He served
with 81 Squadron in India. On 17th March he attempted to intercept Japanese fighters, he was seen to shoot one
down but he was then shot down himself and was killed.

Plt Off Richard B "Dickie" Whittington, 40159, RAF, 16/5/39 to 31/8/40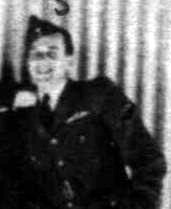 Photo supplied by Patricia Molloy daughter of J. F. Fraser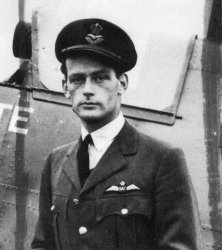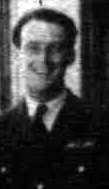 2nd photo supplied by Patricia Molloy daughter of J. F. Fraser

Wing Commander Peter Reginald Whalley Wickham DSO DFC and Bar, RAF no. 33403 Wing Commander Peter Reginald Whalley Wickham DSO DFC and Bar, RAF no. 33403 Wing Commander Peter Reginald Whalley Wickham DSO DFC and Bar, RAF no. 33403 Wing Commander Peter Reginald Whalley Wickham DSO DFC and Bar, RAF no. 33403 Wing Commander Peter Reginald Whalley Wickham DSO DFC and Bar, RAF no. 33403, 3, 112, 33, 131 & 122Sqn, 122 Wing, Peterhead Wing, victories 10

Pete Wickham was born in Nairobi, Kenya on 26 March 1918, and he was educated in England at Marlborough

College and Farnham Military College.

He entered the RAF College at Cranwell in January 1937. He was commissioned on 17 December 1938 and

graduated in 1939 and being posted to 3 Squadron.

, 17May'39 - RAF Middle East, attached H.Q. Soudan Defence Force, Khartoum (pending posting to No.112 Squadron).

On 16 May 1939 he was posted to 112 Squadron when this unit was formed aboard HMS Argus in Portsmouth,

Hampshire and in September he was sent out to the Middle East and Egypt.

When Italy declared war on 10 June 1940 he served as Pilot Officer in 'A' Flight.

In the end of June he was temporarily assigned to 33 Squadron to gain experience, which was based at

Maaten Gerwala in the Western Desert.

On 29 June 1940while with 33 Sqdn., At 11:00, three Gladiators flown by Flying Officer Ernest Dean (Gladiator L9046), Sergeant J. Craig (N5783) and Pilot Officer Wickham (K8031) took off. These were followed by two more flown by Pilot Officer Vernon Woodward (N5774) and Pilot Officer Henry Harrison (a 112 Squadron pilot on attachment to 33 Squadron) (N5768), which took off at 11:40.During this patrol, Pilot Officer Harrison claimed a damaged CR.32 in the Capuzzo-Sidi Aziez area. At 08:00 on 30 June three CR.32s of the 160 Squadriglia took off from Ponticelli to escort a reconnaissance Romeo Ro.37.

The Italian aircraft were variously identified as CR.42s or CR.32s, one of them shot down in flames. One of the planes was claimed by Pilot Officer Wickham while the other fell victim of Flying Officer Ernest Dean. One Gladiator was damaged in this combat.
Dean described the combat:
"Peter Wickham and I were patrolling near Bardia, and spotted two CR 42s. We each took one, and within minutes there were two black plumes on the ground. I got involved with another CR 42, a quite aggressive "Eyetie" (most rare), and I unfortunately got into head-on attacks with him, which are not recommended. We had three passes at one another but with no apparent damage, except that when we reached base together I didn't perform any victory rolls, although Peter was performing perfect flick rolls in formation. Lucky for me, because my riggers reported to me that my centre section was badly damaged, and it was well I had overcome my exuberance."

Later he returned to 112 Squadron.
He left 112 Squadron on 30 October and was again posted to 33 Squadron, apparently claiming two further victories during the First Libyan Campaign of December 1940/January 1941.The unit then moved to Greece. On 13 April Flying Officer Wickham caught a reconnaissance Bf110 from 7(F)./LG2 over Mount Olympus and shot it down in flames. This was L2+HR flown by Leutnant George Lange (fate unknown).During the day on 20 April 1940, Eleusis was almost under constant attack, The first trio to arrive over the port, flown by Flying Officers Wickham, Flight Lieutenant Henry John Starrett (RAF no. 40188) and Percival 'Ping' Newton (a Rhodesian), caught 15 Ju88s dive-bombing ships in the harbour (the Greek hospital ship Ellenis was sunk during the attack). The three Hurricanes followed them down and attacked as they pulled out of their dives; Wickham claimed one shot down, whilst Newton claimed two more. Just then Pilot Officer William Vale arrived on the scene, reporting seeing some 30 Ju88s:
He was awarded a DFC in July, a Bar following on 25 August 1942 for his leadership over Dieppe on 19th of that month. Both citations credited him with nine victories, the Bar citation adding that he had also claimed five probables. Immediately after this award, he was posted to command 131 Squadron.
He was rested in November but returned to operations in April 1943 as commander of 122 Squadron, which he led until November. He then became Wing Leader of 122 Wing in 2nd TAF. He was promoted to Squadron Leader on 1 January 1944.
From January to March 1944 he served with OLTW. In March 1944 he joined 2 TEU as CFI, remaining on strength until 12 September, when he was posted to HQ, ADGB. From October 1944 to March 1945 he was a staff officer at HQ, Fighter Command, following which he led the Peterhead Mustang Wing on sorties up the Norwegian coastal area. At the end of the war a full account of his wartime activities was prepared to support a recommendation for a DSO, this listing his claims as ten confirmed, seven probables and 15 damaged. The DSO citation, which appeared in August 1945, combined the two former figures and credited him with 17.
Wickham ended the war with 4 biplane victories and a total of 7 (plus another 3 without details) destroyed.
He remained in the RAF, commanding 43 Squadron on Meteors from February to December 1949, and ultimately becoming a Group Captain. He was stationed at Duxford in the mid 1950s, becoming a Wing Commander again on 1 January 1953. At the end of June 1956 he was posted as Air Attaché, Bern, Switzerland, as a Group Captain. He retired from the service on 26 March 1961.
Pete Wickham died on 29 April 1970.

Pilot Officer Reginald Albert WILD (Aus.407884),Royal Australian Air Force, No. 112 Squadron.

Photo taken at Creti LG, July 1944, during his second tour with 112 Sqn He was a F/LT and the OC of 'A' Flight

London Gazette issue 36104, 20 July 1943, page 3 of 12

Distinguished Flying Cross.

FX760 "?" (FX760,GAT then GA? cn 9150M) 43-23639 to RAF as Kittyhawk IV FX760. Shot down by flak during close support mission Aug 21, 1944 not sure it was on 112 Sqdn strength when this occurred

),

the replacement for FX740 "?" was flown by Flt/Lt

Reginald Albert Wild, DFC, 407884, RAAF, regularly until it was exchanged for the Mustang Mk III, on 23 June 1944.

Flt/Lt

Reginald Albert Wild, joined RAF 112 Sqdn on 1 June 1944 on his 2nd tour of duty. Flying practice commenced on Mustangs and continued until the first operational flights took place on 5 July 1944.

(HB900,GA?) 42-103869 to RAF Jun 1944 as Mustang III HB900. SOC Apr 14, 1946

, Regularly flown by Flt/Lt Wild from 5 July 1944 until his tour expired on 14 Oct 1944.F/O William David Musther, 187271, RAFVR, then flew HB900 "?" until replaced by KH589 "?" on 16 Dec 1944, (KH589,GA? later GAX) 44-11014 to RAF as Mustang III KH589. SOC Mar 14, 1946), He explains that HB900 GA-? was the Mustang that had "Wimpy painted on it.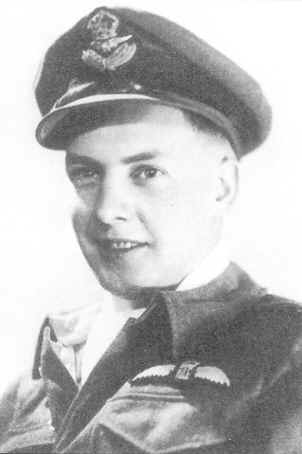 Name: George Wiley
D.O.B: January 24, 1922 (22 years old when killed)
P.O.B: Windsor, Ontario
Current Status: Executed by the Gestapo on March 31, 1944

Background:
Known for his happy-go-lucky character and boyish looks
As a boy growing up, he was known as an average student that loved to play around, especially with his best friend Johnny Jones. He attended Kennedy High School.
As a boy, George caught rheumatic fever and it confined him to bed for months causing him to lose a year in school. It also gave him with a slight limp, that eventually went away, but the leg never regained full strength
In high school he tried swimming and football. After school he was fond of fishing
Acquired a reputation of being a bit of a troublemaker. In one incident, he and a couple of buddies cut class and hitchhiked out of town for the day. Caught up in the adventure they stayed away for a week, hitching to Montreal. Upon return the boys were brought up for disciplinary action with the principal.
Spent summers with his older sister in Port Stanley

Military Career:
Taken by the RCAF on 4 December 1940
Trained at Summerside, PEI and received his commission in September 1941
Later that September he was sent to England and eventually to North Africa in May 1942 where he was posted to 112 Squadron near Alexandria
Assigned to fly Kittyhawks in armed reconnaissance sweeps, ground support missions, and cover for bombing raids
First two months of service are uneventful, but on October 7, 1942 he is attacked by fighters and forced to land in a minefield, just behind enemy lines. His plane hit a mine, blowing off a wing and fracturing George's leg. (
Kittyhawk Mk. IA ET919/ GA C later T )
Sent to hospital in Cairo where a pin is inserted into his leg
Healing takes longer than usual on account of his weak leg from childhood illness
On Christmas Day 1942, George is selected to give a personal greeting over the radio… it was traditional for a few greetings from soldiers to preface the King's address. Back in Windsor, the Wiley family listened as George spoke from his hospital bed talking about his desire to get back into action as soon as his leg healed
Back in action on January 13, 1943. His leg is still weak, but anxious to fight again. Has another close call with German fighters with the Kittyhawk raked with 40 holes from enemy fire. Upon his return, the ground crew was amazed the plane made it back ( Possibly Kittyhawk Mk. I, 6 gun model 87A-3 P-40E AK784 )
As the Allies advanced in North Africa the squadron moved progressively west, and by March they reached Tunisia where it was charged with supporting the 8th Army's assault on the Mareth Line. During an operation George is shot down by superior Messerschmidts and captured by the Germans after wandering the desert for two days (10/3/43, Kittyhawk Mk. III 42-45798 / 245788 GA D, A/C shot down 40 miles NW Tatauin, Tunisia ,taken POW 12/3/43.
Letter to family in the days leading up to escape: "I've got an important part to play in one of our Kriegie plays and am a bit nervous about doing my part well. May see you sooner than expected"
Lived in Hut 112
George was one of the youngest looking in the camp. He had just turned 22 at the time of the escape, but looked more like 16. Fair hair and gentle features. Received constant jibes from the other prisoners about the authorities letting kids into the air force to do a man's work
George never expected to make it far in the escape. He spoke no German and had a bum leg that gave him trouble in the cold. He was along for the ride. He expected to be recaptured in the Sagan area and be thrown in the cooler for a week. It was going to be fun
This was his first and only escape. Most of the other men going out that night had had previous escape experience
The night of the operation, George's bunkmate, an Australian named Alan Righetti who would not be joining the escape, could tell that Wiley was nervous. Righetti knew how difficult it was and tried to give George a few words of encouragement. As George got up to make his way to Hut 104 for the escape he stopped and handed Righetti his watch and a few other personal items collected during his captivity. George asked:
"Alan, if I don't make it, will you see that these things get back to my mother in Windsor?"
"Okay, George," Alan replied. "You sure you don't want to hang on to them? You may see her before I do."
George smiled and clapped Alan on the back before leaving. Alan remembers how young and innocent he looked as he left
The Escape:
Captured and taken to Gorlitz prison on March 28th
Captured wearing RAF uniforms that had been shortened to look less military
Interrogated by the Gestapo at Gorlitz.
Among the first six men taken away from Gorlitz prison by the Gestapo on the morning of March 30
Circumstances of Death:
Shot by the Gestapo outside of Gorlitz with Mike Casey, Ian Cross, Tom Leigh, Johnny Pohe and Al Hake
Gestapo Chief Dr Wilhelm Scharpwinkel was masquerading as a Lt Hagamann in the No 6 Hospital at Breslau when Frau Gerda Zembrodt, corroborated by Klaus Lonsky, saw Russian officers remove him at gunpoint. During the enquiry into the murders, the Russians refused to co-operate with the Allied investigation, although after much prodding they allowed Scharpwinkel to make a statement, in Moscow, during August and September 1946. Soon afterwards, Scharpwinkel disappeared and although reported dead by the Russians on 17-Oct-1947, was believed to have found a high position in the Soviet administration. He is almost certain to have died by now.
He and his associate Lux murdered Cross, Casey, Wiley, Leigh, Pohe and Hake. The next day Lux executed Humphries, McGill, Swain, Hall, Langford, Evans, Valenta, Kolanowski, Stewart and Birkland. The day after that, he executed Kiewnarski, Pawluk, Wernham and Skanzikas. On April 6th, Lux murdered Grisman, J E Williams, Milford, Street and McGarr. Long followed soon after. Lux is also believed to have killed Tobolski and Krol, who vanished in the same area as the others. Lux, with at least twenty-seven murders on his soul, died in the fighting around Breslau at the end of the war. Gunn, killed at Breslau, is likely to have been another of their victims
40652 RNZAF Squadron Leader John Edwin Ashley "Willy" Williams, DFC,
Credited with five victories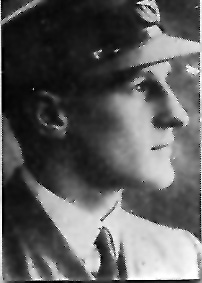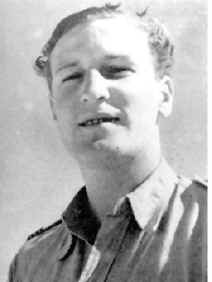 Source for 2nd photo; Wikipedia John Edwin Ashley "Willy" Williams. Judging by the insignia on his shoulder, this appears to have been taken between August 1941, when he was made a substantive Flight Lieutenant and October 1942, when he was captured. (Photographer unknown.)
From: http://www.boztek.com.au/~aldrich/450/herrett.html#ad
A 450 Sqn dairy
31st October 1942:
More escorting for "Baltimores" over the Fuka 'drome. Shots were exchanged with some ME109's but no

damage was done to us. Twelve of our "Kitty's" did a long-range sweep after lunch. Ten returned.
"J" with Sergeant Reid aboard was attacked by two ME109's and went down in flames near Sollum. The two

attackers fell to the guns of Flt Lt. Law and Sergeant Borthwick.
The CO [Flt Lt Williams] whilst strafing an enemy camp was accidentally shot down by Sgt. Harrison.

He crash landed in rough country and was seen to get out of his machine. The ground was too rough to

effect an immediate rescue.
Ammo. dumps, tents, transport and railway sidings were strafed for the rest of the day. No.112 Squadron

shot down eight enemy aircraft today - well done.
Williams was born in Wellington on May 6 1919. He joined the RAF in January 1938 to take up a short
service commission.
He is believed to have served with 601 Squadron before being posted to the Middle East, where he flew
at different periods with 112, 94 and 260 Squadrons.
In June 1942 Wiliams joined 450 Squadron in the Western Desert as a flight commander. On the 18th,
leading his flight over Gambut, he shot down a Bf 109. On July 5 he destroyed a Ju 88.
Leading the squadron over the El Alamein positions on September 12 1942 Williams destroyed a Ju 87,
probably a second and damaged a third. Later in the month, during a sortie against the enemy airfield at
Daba, Williams shot down a Ju 88.
In October 1942 Williams was awarded the DFC and took command of the squadron. He led it during the
Battle of El Alamein. On October 31 he made a forced landing behind German lines and was captured.
Williams was in Stalag Luft 3 camp at Sagan in Germany in March 1944. He took part in the Great
Escape and was one of fifty men executed by the Gestapo on March 29. (One of 2 , 112 Sqn Pilots to have
met that fate) 40652 S/L John E A Williams DFC, Australian, born 6-May-1919, 450 Sqdn,
PoW 31-Oct-1942, recaptured near Reichenberg, murdered 29-Mar-1944 by Lux, cremated at
Brux
Gestapo Chief Dr Wilhelm Scharpwinkel was masquerading as a Lt Hagamann in the No 6 Hospital at Breslau
when Frau Gerda Zembrodt, corroborated by Klaus Lonsky, saw Russian officers remove him at gunpoint. During
the enquiry into the murders, the Russians refused to co-operate with the Allied investigation, although after much
prodding they allowed Scharpwinkel to make a statement, in Moscow, during August and September 1946. Soon
afterwards, Scharpwinkel disappeared and although reported dead by the Russians on 17-Oct-1947, was believed to have found a high position in the Soviet administration. He is almost certain to have died by now.
He and his associate Lux murdered Cross, Casey, Wiley, Leigh, Pohe and Hake. The next day Lux executed
Humphries, McGill, Swain, Hall, Langford, Evans, Valenta, Kolanowski, Stewart and Birkland. The day after that, he
executed Kiewnarski, Pawluk, Wernham and Skanzikas. On April 6th, Lux murdered Grisman, J E Williams,
Milford, Street and McGarr. Long followed soon after. Lux is also believed to have killed Tobolski and Krol, who
vanished in the same area as the others. Lux, with at least twenty-seven murders on his soul, died in the fighting
around Breslau at the end of the war. Gunn, killed at Breslau, is likely to have been another of their victims
Credited with five victories, Williams also received a Mention in Dispatches.
| | | |
| --- | --- | --- |
| Date of birth | 1916-05-06 | |
| Date promoted | 1938-03-26 | Acting pilot officer. |
| Other units | 1938-03-26 | Short service commission, General Duties Branch. |
| Other units | 1938-10-23 | Central Flying School. |
| Other units | 1938-12-23 | No 9 Flying Training School. |
| Date promoted | 1939-01-17 | Pilot officer. |
| Other units | 1939-04-01 | No 13 Flying Training School. |
| Other units | 1939-04-09 | No 10 Flying Training School. |
| Date promoted | 1939-08-14 | Acting flight lieutenant. |
| Date promoted | 1939-11-20 | Acting flying officer. |
| Date promoted | 1940-08-17 | Flying officer. |
| Other units | 1940-09-10 | No 21 Service Flying Training School. |
| Other units | 1940-10-04 | Attached to Erection Party, Durban. |
| Date promoted | 1941-08-17 | Flight lieutenant (war substantive). |
| Other units | 1942-01-19 | No 71 Operatinal Training Unit. |
| Other units | 1942-04-11 | No 112 Squadron. |
| Other units | 1942-04-22 | No 94 Squadron. |
| Other units | 1942-05-12 | No 260 Squadron. |
| Other units | 1942-06-14 | No 450 Squadron. |
| Date promoted | 1942-10-28 | Acting squadron leader. |
| Other units | 1942-10-28 | Commanding Officer No 450 Squadron. |
| Other | 1942-10-31 | Reported missing. |
| Date captured | 1942-11-01 | |
| Date of death | 1944-03-29 | Kittyhawk Pilot 450 Sqn, RAF - 29 Mar 1944 (Age 24); Poland. |
Flt Lt Wallace "Wally" Cowlings Williams, RAAF, 297404,
RAF 112 Sqdn From
16/5/39 to 18/7/40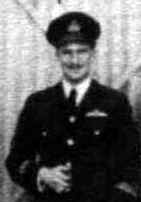 Photo supplied by Patricia Molloy daughter of J. F. Fraser
OC "A" Flight, 1939, the London Gazette lists a Wallace Cowling Williams as a Pilot Officer with service number 39010, 21 May, 1940 then 09/09/41 Flt Lt to temporary Squadron Leader
The RAAF lists a Squadron Leader Wallace Cowling Williams with service number 297404, now the mystery is to determine which one was with RAF 112 Sqdn, my bet goes to the RAAF man, knowing our man was Australian points to this man
Written by S/L. J.F. FRASER….Dec. 1939 (and on to August 1940 )
The squadron consisted of S/L D.M. SOMERVILLE, commanding Officer;
A/F/Lts Williams, Savage and Strong; F/O Fraser, Adjutant & 25 other officers including 21 pilots and about 30 worn out Mk1 Gladiators stowed away in the Aircraft carrier's hangar. There were many rumours as to our final destination, Palestine, Iraq, N.W. Frontier. This hurried most secret move must mean action!
Since the outbreak of War with Italy on June 10th, 1940, A and C Flights, commanded by F/L W.C. Williams and F/L C.H. Fry, were stationed at HELWAN about 15 miles south of CAIRO and solely responsible for the defense of Egypt's Capital. No.80 Squadron, also equipped with Gladiators, were at AMIRIA, responsible for the defence of ALEX and H.M.'s Fleet, while the only other fighter squadron in the whole of the Middle East Command, from the Equator to the Syrian frontier and from Sollum to Baghdad, was No. 33 Squadron, stationed at MERSA MATRUH, sole defenders of the Western Desert
It was an excited formation of Gladiators which flew across from Helwan to Gerawla, a few miles south-east of Mersa Matruh. All were restless to show the W.O.P. and the rest of the R.A.F. that although 112(F) Squadron was unknown in peacetime, it was going to be accepted as one of the most famous during wartime. However, in spite of the excitement of what lay in our near future, it was not without regret that Helwan was left behind. For our stay of over a year had been extremely happy there and many ties and affections were left behind, between Cairo and Helwan. L/Ldr D.M. (Slim) Somerville, F/L W.C. Williams, F/Os Ross and Campbell Strahan and R.H. Smith, had all left their wives behind in Helwan. F/O J.F. Fraser was to be married in a couple of weeks and the affections of many other pilots were temporarily severed between first meetings and engagement rings.
During August, the Squadron's C.O. Slim Somerville was still non-operational, recovering from extensive burns which he had received getting out of a Gladiator on fire while practicing aerobatics at Helwan. The Flights were commanded by F/Lt C.H. Fry and Algy Schwab, the latter had just been posted in Wally Williams place as O.C. "A" Flight
Plt Off R K Wilson, 115949, RAF, POW 1/6/42
Paddy Woods
Sgt E Norman Woodward, 566289, RAF, with RAF 112 Squadron from 2/1/40 to 31/8/1940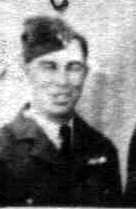 Photo supplied by Patricia Molloy daughter of J.F. Fraser
Plt Off G. A. Wolsey, 41811, RAF, 30/1/40 to 31/8/40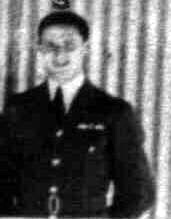 Photo supplied by Patricia Molloy daughter of J. F. Fraser
Following information is from: http://www.hawkertempest.se/worbey.htm
Flying Officer Stanley Thomas Worbey, 174081, RAFVR, 112 Sqn, 6/2/43 to 13/3/44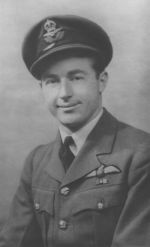 Stanley Worbey was born in 1921. Son of Thomas and Martha Worbey, of Letchworth, Hertfordshire.
Career Details

While with 112 Sqn (flying Kittyhawks) he is recorded as a Sgt on 16/9/43 and again on 13/3/44 when he was shot
down by flak during an armed recce. He was captured and then subsequently escaped and hid with an Italian farming
family waiting for the front line to reach him. News of his release (now a Pilot Officer) reached 112 Sqdn in mid June
1944.
Stanley Worbey was transferred to No.3 Squadron, now flying Tempests, but was on April 30 1945 shot down and
killed by flak at Schwerin Airfield. He was then flying Tempest JF-W(EJ598).
Photo:
Martin Bleasby
Text sources:
Martin Bleasby
The Hawker Typhoon & Tempest Story by Chris Thomas

Worcester see Anthony Gray-Worcester on the G personnel page
Frank Woolley, Rigger 112 Squadron
http://www.bbc.co.uk/dna/ww2/A3473886
This story was submitted to the BBC people's war site by James Barton of the County Heritage Team on behalf of
Frank Woolley (the author) and has been added to the BBC site with his permission.

I joined the RAF in May 1939. After square bashing, went to 112 squadron in Norfolk, working as a flight rigger on
Blenheims.
In January 1940 we were sent to Egypt, stationed near Cairo, then to the Western Desert where we lived in tents. In
October 1940 I was posted to Athens, working on Gladiators and then transferred to the north of the country as
Greece was fighting the Italians. At this point Germany became involved and we were evacuated back to Athens,
then on to Crete. When Crete capitulated in 1941 I was taken, as a prisoner of war, to Silesia and joined a working
party.

In July 1943 whilst a prisoner in Stalag 8b, a friend and I escaped through a short tunnel dug beneath our hut. We
were free for 8 days and after our re-capture were placed in solitary confinement for 28 days. We went back to the
working party.

In January 1945 the Russians were advancing on Silesia and we were evacuated to an area closer to Nuremberg.
This meant walking from January to April 1945 with poor clothing and very little food. Once there we were put into
another camp. Then, as the Russian advance came closer we were moved further inland and I was able to escape
once more and found shelter. I could hear gunfire in the distance and next morning American tanks came through and
I was able to get a lift from them.

From Nuremberg I flew to France and at Le Havre was put on a troop transporter back to Southampton, then a
train to London and RAF H.Q.where I was medically examined. After some home leave I was sent for rehabilitation
in Scarborough. I was demobbed in September 1945.

I met my wife at a Youth Hostel in North Wales in 1946 and we married in 1947.
Flying Officer Anthony Gray-Worcester, RAFVR no. 33338 16/5/39 to 18/7/40 KIA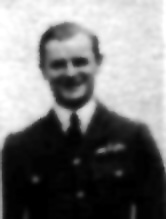 Photo supplied by Patricia Molloy daughter of J. F. Fraser
Flying Officer John Garn WRIGHT (Can/J.7233), Royal Canadian Air Force,
No. 112 Squadron.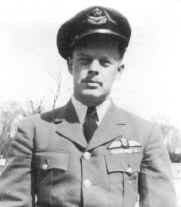 London Gazette issue 36027, 21 May 1943, page 2 of 10

Distinguished Flying Cross.

This officer has taken part in a large number of sorties, including numerous fighter bomber attacks against enemy

airfields and mechanized transport. In air combat he has destroyed at least 3 enemy aircraft. Flying Officer Wright

has displayed great keenness, skill and determination..

02.03.59 HMCS CAYUGA(218) DDE, C/S "CGWN" "Motorola" LCdr Evan PETLEY-JONES CD, CO;

LCdr(P) John Garn "Garry" WRIGHT DFC, CD, XO; Sqn/SupO, LCdr(S) Douglas Elliott SAMSON CD; Lt(C) John Conrad LAMONTAGNE; Lt's, Harold Raymond STEELE; Mervyn Dee CAMERON; all RCN.

http://post.queensu.ca/cgi-bin/listserv/wa?A2=ind0502&L=marhst-l&F=&S=&P=101136

(Sgt) later WO Robert A (Wilbur) Wright, 1024883, RAF, 26/10/44 to 16/12/45

******************************************************************

Sgt Cedric Don Young, 411490

,

RNZAF, 10/7/42 to 15/9/42

Records Shows SGT De Bourke, SGT Smith and SGT Young all arrived on 112Sqdn 10 Jul 1942 at LG91.

SGT Young Severely damaged a Ju88 during a straffing attack on LG21 19/7/42.

ORB 541 states - " Interception patrol with 239 Wg Squadrons, 4 enemy aircraft seen above, no fight ensued. SGT Young Shot down at 878292 thought by our own AA, and presumed safe

WIA, Flying Officer C. D. Young; born Taradale, 19 Jan 1920; clerk; joined RNZAF 2 Mar
1941. served briefly (6 sorties) with 2 SAAF then to 112 Sqdn went from 112 Sqdn after recovering from burns sustained in a crash to 92 (East India) Sqdn
He had a sister named Ngaire that at that time lived in Bulls employed at the local Post Office. In later years he was able to visit Duxford Museum with his son Malcolm

He has written a book about his experiences, photo contributed by Arnold Young
Update: 5 October 2006, Through Arnold (no relation) I have made contact with his son Martin.
The book is self published and doesn't seem to have been widely distributed. I only stumbled across it when I was doing a literature search for my thesis (nothing to do with aviation history unfortunately). The National Bibliography of New Zealand gives the following details:
As the assumed date of publication is 1992 and the book was self published it may be difficult to get a copy now, especially as fourteen years have passed and Cedric may no longer be alive. ( Unfortunately he passed away in 2002) I will ask Martin if it is possible to get a copy of the book for you. The book is only 42 pages and if it eases your concerns about missing vital information and/or photos, I have scanned all the pages relating to 112 Sqn to you. The rest of the book is about Cedric's enlistment, training, recovery from the injuries sustained in his crash landing on 15 September 1942, his service with No 2 Air Delivery Unit, his tour with 92 Sqn and subsequent demob.
Regards
Arnold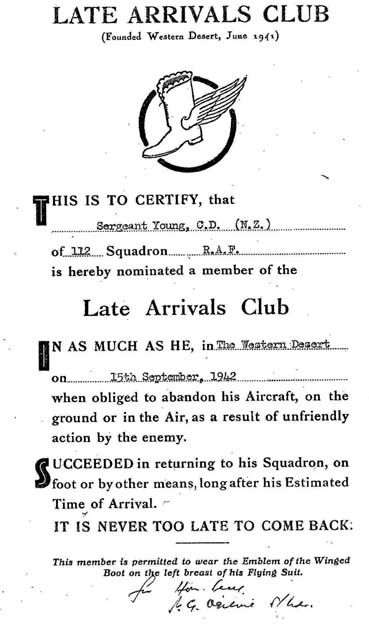 Following is information obtained from his self published book.
When war broke out he was a junior clerk in the firm of Bagnall & Keeble in Palmerton North, NZ.
As he was 19 at the time he joined he joined the motorcycle platoon of the territorials where he was able to drive his single sylinder Harley Davidson which he had purchased from Charlie Phillips for ten pounds. After eventually getting his Mother to sign a waver and having his tonsils removed he along with other local youth where called up to No.13 course 3rd March 1941 Levin Initial Training Wing. He was now 21 years old.
On passing his six week square bashing he was posted to New Plymouth for Elementary Flight Training. arriving on12th April 1941. After 10 hours dual training on the Tiger Moth he soloed having been instructed by Johnny Strand. During this siw week course he was able totake leave to his home town of Bulls where he duck hunted at his grandparents farm at Paraewanui.
on completion of his course he was accepted into the Commonwealth Air Training Plan, he shipped out on the "Awatea" headed for Vancouver British Columbia, Canada. He then traveled by train to Dauphin, Manitoba accompanied by his friends Alec Wicks and Ralph Sykes. (Ralph ended up flying in the MTO as well).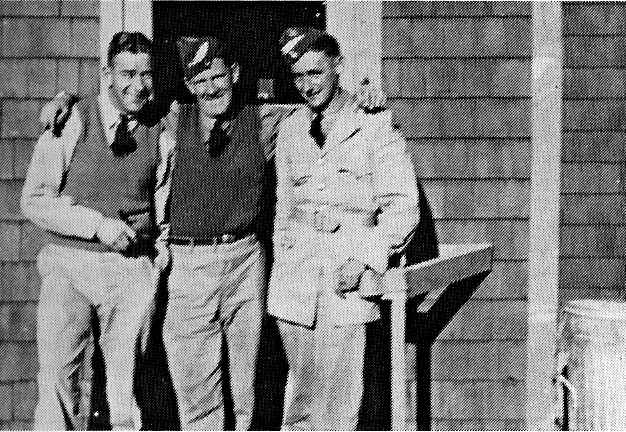 Ralph Sykes, Alec Wicks and Cedric Young taken at Dauphin, Manitoba while training on Harvards.
Alec was killed making a forced landing in a Hurricane. Ralph Sykes was eventually lost in the desert flying a Hurricane.
He graduated from Dauphin with the rank of Sergeant and his wings up on his uniform.
He and his mates headed to Halifax and embarked on the "Andes" arriving in Liverpool and the bused to Bournemouth
waiting for a posting to an OTU (Operational Training Unit).
He was posted to No.61 OTU at Heston training on Spitfires. He survived his time there having put one Spitfire on its' nose during a hard landing.
His first operational posting was to 132 Squadron located at Peterhead on the Scottish coast North of Aberdeen.
As a fighter pilot he was now able to undo the top button of his tunic, something often noted in pictures of 112 Squadron pilots.
After his time in the snow he discovered he was being transferred to scorching sun of the Middle east.
He sailed from Greenock on a converted Luxury Liner, this story is told in great detail by Royal Photographer Cecil Beaton in his book "Near East".. At Freetown they boarded a second ship continuing their journey to Lagos. Here they set out for the RAF Unit at Takorradi boardinf a DC 3, spending the first night at Maiduguri the second night at Kartum. the third day had them flying down the Nile Valley pyramids and Cairo spread out before them.
He was sent by train to a conversion unit and took a Kittyhawk conversion course. Towards the end of June 1942 he was posted briefly to No.2 SAAF commanded by Major Johnny Human. He did six operational flights with them. Then was posted out to RAF 112 Squadron comanded at the time by Billy Drake.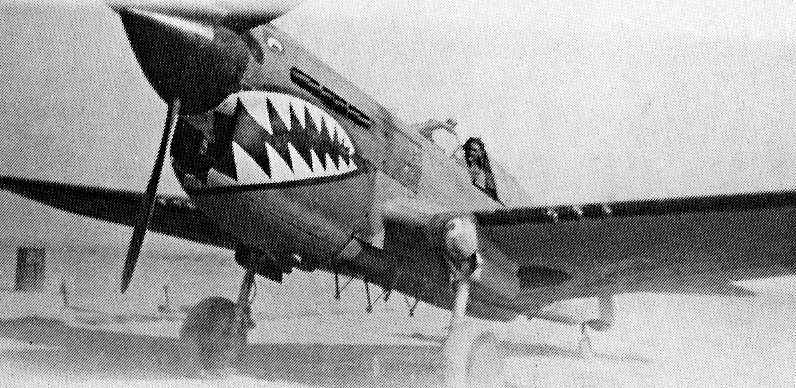 Cedric posing in GA ? Possibly AK 920
Planes he flew while with 112 Sqdn supplied from his log book from his son Martin plane serials where tracked down in the ORB by Buz , my thanks to you both;
| | | |
| --- | --- | --- |
| July 13 1942, | Mission # 8 | GA A, AK832 |
| , | 9 | GA B, AK865 |
| July 14 | 10 | GA A, AK832 |
| . | 11 | GA V possibly ET 611 (35965 (ET611) to RAAF as A29-91 Apr 1942. Burned Jul 12, 1943 following forced landing 1 mi S of Yelta Satellite Aerodrome near Mildura. RAF records have this plane as serving with RAF as ET611 and being SOC Feb 1, 1944) |
| July 16 | not a mission | AK 886 from Base L.G. to L.G. 91 |
| . | 12 | GA D, AK 995 |
| July 17 | 13 | GA X Kittyhawk Mk. ET 524 |
| July 19 | 14 | GA N, AK 788 |
| July 21 | 15 | GA N, AK 788 |
| July 22 | 16 | GA F, AL 209 |
| | 17 | GA N, AK 788 |
| July 23 | 18 | GA Z AK 866 fired a burst at 109 no claim made engine failed belly landed |
| July 27 | 19 | GA D, AK 995 |
| July 29 | 20 | GA D, AK 995. racking up total hours flown 211 hours 30 minutes |
| August 1 | 21 | GA B bombing raid |
| August 12 | Practice Flying | GA L |
| August 13 | Practice Flying | GA L |
| August 15 | Practice Flying | GA L Scholfield spun in from 3000 feet off turn today |
| August 15 | Practice Flying | GA V Kittyhawk Mk. IA ET1017 |
| August 16 | Practice Flying | GA C |
| August 18 | Practice Flying | GA V Kittyhawk Mk. IA ET1017 |
| August 24 | 22 | GA X Kittyhawk Mk. I AK703 Engine packs up belly landed10 miles behind enemy lines |
| August 31 | 23 | GA C, ET 795, Summary for August Kittyhawk, hours 8.45, total flying hours 224 hours 55 minutes |
| Sept 1 | 24 | GA C, Kittyhawk Mk. IA ET795 |
| Sept 2 | 25 | GA L, AK 743 |
| Sept 3 | 26 | GA C, ET 795 |
| Sept 4 | 27 | GA T AK701,GA T later F, Kittyhawk Mk. I |
| Sept 9 | LG 175 TO LG 91 | GA Y Kittyhawk Mk. I AK694 |
| Sept 10 | LG 175 TO LG 91 | AK 716 |
| . | LG91 TO LG 175 | AK 716 |
| Sept 12 | 28 | AK901 GA W |
| Sept 15 | 29 | AK694 GA Y Kittyhawk Mk. I shot down badly burned |
His next stay was at No.1 New Zealand General Hospital, Helwan, Egypt, his burns where tended
to by "baldy" Manchester, (now Sir William Manchester) , he was trained by Sir Archibald McIndoe as a Plastic Surgeon. On recovery he was sent to Ferrying - No.2 Aircraft Delivery Unit situated at Kilo 40, 40 kilos North of Cairo,
after his stint with them he went on to N0. 244 Wing Training Flight in Italy he was now 24 years old.
From there he went to 92 (East India) Squadron flying Spitfires where his adventures continued.