14th Fighter Group - 5th Wing - 15th Air Force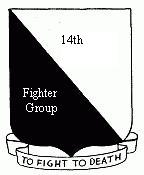 INSIGNE of 14th FG, . Shield: Per bend argent and sable. Motto: TO FIGHT TO DEATH
(Approved 17 Jun 1942.)
Source for following: http://usaaf.com/8thaf/fighter/14fg.HTM
Squadrons of the 14th FG
48th Fighter Squadron
49th Fighter Squadron
50th Fighter Squadron
Assigned 8th AAF: 18 Aug 1942
14th Fighter Group
The 14th Fighter Group moved to Atcham on 18 August 1942 from Hamilton AAF California and was assigned to the Eighth Air Force. The group consisted of the following squadrons:
48th Fighter Squadron (ES)
49th Fighter Squadron (QU)
Even though the defense of the US west coast initially took priority, plans were made in the spring of 1942 to deploy Lightning squadrons to Britain. This deployment caused logistical problems, since the U-boat menace made shipping across the Atlantic quite risky. However, development by Lockheed of reliable drop tanks for the P-38F-1-LO increased the ferry range from 1300 to 2200 miles. Test pilot Milo Burcham actually demonstrated a maximum range of over 3100 miles. This made it possible to ferry the Lightnings from Maine to the UK via Goose Bay, Labrador to Bluie West One (Greenland) to Reykjavik, Iceland and finally to Prestwick, Scotland. Following the victory at Midway, the USAAF felt sufficiently confident that the Japanese fleet was not about to show up off Santa Barbara that they decided to re-deploy the 1st and 14th Fighter (renamed from Pursuit in May 1942) Groups to Britain. By August 1942, 81 P-38Fs of four of the six squadrons of the 1st and 14th Fighter Groups had arrived in Great Britain to complete the first transatlantic crossing by single-seat fighters. Two other Lightning squadrons (the 27th and the 50th) were held over in Iceland to assist the Curtiss P-40Cs of the 33rd Fighter Squadron in the flying of defensive patrols over the Atlantic. On August 14, 1942, a P-38F flown by 2nd Lieut Elza Shaham shared with a P-40C in the destruction of a Focke- Wulf FW-200C-3 to obtain the first victory over a Luftwaffe aircraft.
Equipped with Lockheed P-38 Lightnings, the 14th escorted B-17 and B-24 bombers to targets in France. In addition, fourteen P-38s of the 48th Squadron were sent on detached service to RAF West Hampnett and RAF Ford in southern England, where in coordination with British squadrons, the pilots engaged in a number of practice sweeps across the English Channel.
After flying sweep sorties during which there was no contact with the Luftwaffe, in November 1942 the 14th was moved to Tafaraoui, Algeria as part of Twelfth Air Force.
After flying 347 practice and sweep sorties during which there was no contact with the Luftwaffe, the 1st, 14th and 82nd Fighter Groups were transferred to the 12th Air Force in North Africa. While in transit from Britain to Algeria, pilots of the 82nd Fighter Group were credited with the destruction of two Ju-88 bombers over the Bay of Biscay. The Lightnings were soon in regular combat in the North African theatre. The first of these took place on November 19, 1942 when the P-38Fs of the 1st Fighter Group escorted B-17s on a bombing raid on the El Aouina airfield at Tunis. The three P-38 groups contributed a great deal toward the establishment of local air superiority in the area. On April 5, 1943, 26 P-38Fs of the 82nd Fighter Group claimed the destruction of 31 enemy aircraft as against the loss of six Lightnings. In these air battles, mixed success was obtained Because of the tactics of the enemy, the Lightnings were forced to fight at lower altitudes of 15,000 feet, and in battles against fighters it was not entirely successful. The twin engines restricted maneuverability to some extent and the Lightning had a wheel control instead of the conventional stick, which may also have restricted maneuverability. Nevertheless, the Lightning was effective against bombers and had a sensational zoom climb that could rarely be matched. It wreaked great havoc among Rommel's air transport well out to sea, earning for itself the German nickname "der Gabelschwanz Teufel"--the Fork-Tailed Devil.
Wing/Command Assignment
VII FC: 6F W 12 Sep 1942

Combat Aircraft:
P-38F

Stations
ATCHAM 18 Aug 1942 to 6 Nov 1945

Group COs
Col Thayer S. Olds 18 Apr 1941 to 28 Jan 1943

First Mission: 2 Oct 1942
Last Mission: 21 Oct 1942
MIA: No combat losses

Early History:
Activated 15 January 1941at Hamilton field, California. They moved to March Field in California in early June 1941, and back again to Hamilton Field on the 7th of February 1942 to receive P-38s. The Ground echelon departed 16 July 1942 on the first stage of the movement to England. They sailed on the USS West Point in early August 1942, and arrived in Liverpool on 17th Aug 1942. The air echelon departed to Bradley Field Conn. on July 1st 1942. They flew P-38s to the United Kingdom via the northern ferry route. The first aircraft departed Presque Isle on 22 July 1942. The 50th Fighter Squadron remained in Iceland and did not rejoin the Group. The ground echelon at Atcham later transferred to the 4th Fighter Group. The 14th Flew sweeps and practice missions under the Royal Air Force's guidance from Ford, and Tangmere.

Subsequent History:
Assigned to the 12th Air Force, XII Fighter Command on the 14th of September 1942, but continued to operate under VIII Fighter Command. The Ground echelon left Atcham on the 30th of October 1942, and sailed on the USS Brazil and USS Uruguay from Liverpool and arrived in Oran on the 10th of November 1942. The air echelon departed for Portreath on the 6th of November 1942, and flew to North Africa from the 10th to the 14th of November 1942. They fought with the 12th Air Force in North Africa and later with the 15th Air Force in Italy on bomber escort duties. The 14th fighter group was a unit of the Air Defense Command in the post war years. In 1966 the designation was given to a special operations wing in Vietnam
Codes 61-90 37th FS. Patch for 37th FS WW II

The 37th Pursuit Squadron (Interceptor) which was constituted on 20 November 1940 and activated on 15 January 1941 at Hamilton Field, CA. Assigned to the 55th Pursuit (later, 55th Fighter) Group, the squadron operated the P-43 until 1942 and was tasked with providing air defence, from 7-24 December 1941.

1942 saw the squadron transition to the P-38 and be redesignated as the 37th Pursuit Squadron (Interceptor) (Twin Engine) on 31 January 1942; and as the the 37th Fighter Squadron (Twin Engine) on 15 May 1942. Reassigned to the 14th Fighter Group on 1 March 1943, the 37th saw combat in the ETO and MTO, from 6 May 1943-4 May 1945, operating from locations in Algeria, French Morocco, Tunisia and Italy. It was redesignated as the 37th Fighter Squadron, Two Engine, on 28 February 1944 and inactivated on 9 September 1945 at Lesina, Italy.

Codes 1-30 48 FS, Artists rendition followed by WW II patch of the 48th Sqdn

The 48th Pursuit Squadron (Fighter) was activated on January 18th 1941 at Hamilton Field, California. Thirty-five enlisted men were in the initial assignment of personnel. More personnel were added; and when the Squadron moved to March Field, California, in June 1941, the strength was eight officers and one hundred and ninety one enlisted men. At that time two PT-17 aircraft were assigned. At March Field, the Squadron embarked upon an intensive training program.

When the 48th Fighter Squadron arrived in Algeria on November 15th 1942, the Allied armies had landed successfully at Oran and Algiers along the North African coastline; and preparations were being made to move swiftly into Tunisia, in order to prevent Germans and Italians from seizing that strategic area. The rapid buildup of Allied air power was an essential ingredient in this eastward thrust; and the arrival of the 48th Squadron at Oran, Algeria, was a part of this buildup. The unit remained at Oran for three days, and then was sent to Maison Blanche, Algiers, located much closer to the combat area in Tunisia. On the night of arrival, the German Air Force bombed the airfield. Seven P-38s of the 48th Squadron were damaged. The next day, enough Lightnings were available to accompany B-17s of the 97th Bombardment Group in a strike against the El Aouina airdrome at Tunis, where eight enemy aircraft were destroyed. No planes of the 48th Squadron or the 97th Bombardment Group were lost.

Meanwhile, the need for air units even closer to the Tunisian combat area became apparent, and the Tebessa-Youks les Bains area, located next to the Tunisian frontier, was selected as the most suitable spot for the concentration of Allied air power. C-47s immediately began to ferry supplies in Youks, which had just been captured by American paratroopers. On November 22nd, the 48th Squadron moved to this advance station in the Tebessa mountains, and on the same day, the Squadron flew several strafing and escort missions.

The 48th Squadron, throughout December 1942, flew many missions from Youks les Bains. On December 14th, 8 P-38s of the squadron took off at 1000 hours, rendezvoused over Thelepte with twelve P-40s, and escorted nine Boston (DB-7s) to Sfax, where the target was a railroad station. Other fighters of the 48th took off that same day at 1430 hours and provided high cover for nine Bostons in another raid on the railroad station at Sfax. The next day, two P-38s flew over Tunis and Bizerte on a reconnaissance flight; four P-38s escorted three Bostons in a bombing attack on bridges between Gabes and Sfax; and eight P-38s escorted six Bostons on a mission over Pont Du Fahs. Close escort for Bostons was given on December 16th, when six P-38s were sent to Mateur and 7 P-38s to Massicault, and on December 17th, when eight P-38s were dispatched to Gabes and eight P-38s to an airdrome near Tunis. Escort missions were conducted to Gabes on December 19th and to Enjidaville on December 20th. Four P-38s of the 48th Squadron made a fighter sweep on Sfax and Sousse on December 26th, and two planes were sent to Sbeitla to cover the movement of a train. Two days later, six planes went on a long-range reconnaissance mission into Tripolitania, which was followed by a similar long-range reconnaissance flight over Tripoli. In spite of these missions during December, the Allied advance on the ground was repulsed; and the race for Tunis resulted in victory to the enemy.

WW II patch of the 48th Sqdn

While the 48th Fighter Squadron was escorting bombers, flying reconnaissance missions, and making strafing attacks in an area ranging from Tripoli in the south, to Bizerte in the north, the personnel of the Squadron were living under primitive conditions at Youks les Bains. Life at that airstrip was not easy. The chow was lousy. The menu for Thanksgiving Day was: Breakfast - two spoons of fried corn beef and two hardtack biscuits; lunch - Canned stew, carrots, hardtack, peanut butter, and half a pear; supper - canned beans, hardtack, one slice of Spam, jam, and coffee. This food was, to quote one write, "darn good food compared to what we have been getting." To increase discomfort, was the fact that the vehicles and tents of the Squadron did not arrive on time at Youks les Bains. The Squadron used borrowed tents for mess halls, hospitals, and operational activities, and the men dug holes, or "elaborate underground abodes" as they were emphatically called, in the side of a low, wind-swept hill. These dugouts provided shelter against the high winds, which howled and beat against the tents, and blew fine dust into the mess halls and hospitals.

The 48th left Youks les Bains for Berteaux, approximately five miles east of Telergma, on January 9th 1943, and operated from the landing grounds around Berteaux until operations were terminated on January 28th 1943. Similar to the type of activity at Youks les Bains was the job at Berteaux, where the Squadron provided escorts for B-25 and B-26 aircraft and flew separate fighter sweeps and made reconnaissance missions.

The 28th of January witnessed the temporary cessation of the combat activities of the 48th Squadron. The 82nd Fighter Group, located at Telergma, received the operational ships, plus several of the pilots who had just been assigned to the Squadron. Simultaneously, the older pilots of the Squadron, who had fought with the unit since arrival in North Africa, were returned to the United States. Among those returnees was Major Wade C. Walles of Port Niches, Texas, who had been commanding officer of the 48th Squadron prior to it's departure from the United States, and had retained command during the stay in England and the Campaign in North Africa.

A month later, and February 28th 1943, the Squadron moved out of the combat area and returned to Mediouna airdrome, some eighteen miles southeast of Casablanca. There followed a period of rest, recuperation, and training. Pilots were received from the nearby training school at Beerschid and from the 78th Fighter Group in England, and the unit was brought up to full strength. By the end of April 1943, preparations began for movement into the combat area. The ground echelon left in several motor convoys for Telergma, the next base of operations; and the air echelon departed on May 5th.

By May, when the 48th returned to combat service at Telergma, Algeria, the war in Tunisia was over. On May 7th, the British captured Tunis and the Americans seized Bizerte

Codes 31-60 49 FS. Patch for 49th FS WW II,

Constituted as the 49th Pursuit Squadron (Fighter) on 20 November 1940. It activated on 15 January 1941 at Hamilton Field, CA, and was assigned to the 14th Pursuit (later, 14th Fighter) Group, flying P–40 (1941), P–43 (1941), P–66 (1941) and P–38 (1941–1945) aircraft. It was tasked with conducting air defense patrols from 7–12 December 1941.

The 49th was redesignated as the 49th Fighter Squadron (Twin Engine) on 15 May 1942. Actively involved in combat over Tunisa, Anzio, Rome-Arno, Naples-Foggia, Normandy, Northern France, Southern France, North Apennines and Rhineland the Po Valley, the 49th saw combat in the ETO and MTO, from 21 October 1942–1 May 1945. During that time, the squadron was redesignated as the 49th Fighter Squadron, Two Engine, on 28 February 1944. It inactivated on 9 September 1945 at Lesina, Italy.

Present Patch for 49thFS

Not confirmed as right patch for 50th FS WW II

Constituted as the 50th Pursuit Squadron (Fighter) on 20 November 1940. It activated on 15 January 1941, at Hamilton Field, CA, and was assigned to the 14th Pursuit (later, 14th Fighter) Group, flying the P-40 aircraft. The squadron was tasked with conducting patrols on the west coast, from Febraury–June 1942.

Redesignated as the 50th Fighter Squadron (Twin Engine) on 15 May 1942, the squadron converted that same year to the P-38 aircraft. The squadron was tasked with the air defense of Iceland from August 1942-February 1944, operating from locations in Iceland and England. It was reassigned to the 342nd Composite Group on 14 November 1942.

Redesignated as the 50th Fighter Squadron, Two Engine, on 28 February 1944 and assigned to Eighth Air Force, that same month (though attached to the 8th [later, 802d] Reconnaissance Group [Prov], starting in March 1944), the squadron was not operational during that time. The unit was disbanded on 9 August 1944.
Stations Found:
TUESDAY, 18 AUGUST 1942, ETO (8th AF): Units arriving in England from the US: HQ 14th Fighter Group at Atcham; HQ 64th Troop Carrier Group and 16th, 17th, 18th and 35th Troop Carrier Squadrons at Ramsbury with C-47s; HQ 92d Bombardment Group (Heavy) and 325th, 326th, 327th and 407th Bombardment Squadrons (Heavy) at Bovingdon with B-17s (they will fly some combat missions while training replacement crews, Aug 42-Jan 43); 32d Bombardment Squadron (Heavy), 301st Bombardment Group (Heavy), at Chelveston with B-17s (first mission is 2 Oct).
MONDAY, 14 SEPTEMBER 1942, EUROPEAN THEATER OF OPERATIONS (ETO) 8th Air Force: After the transfer of the combat unit to the Twelfth Air Force (see below), the combat units assigned to the Eighth are: HQ 3d Photographic Group and 5th, 12th, 13th and 14th Photographic Squadrons and 15th Photographic Mapping Squadron with F-4s, F-5s and B-17Fs; HQ 4th Fighter Group and 334th, 335th and 336th Fighter Squadrons at Steeple Morden with Spitfire Vs; HQ 44th Bombardment Group (Heavy) and 66th, 67th and 68th Bombardment Squadrons (Heavy) at Cheddington with B-24s; HQ 67th Observation Group and 12th, 107th, 109th and 153d Observation Squadrons at Membury with no aircraft; HQ 91st Bombardment Group and 322d, 323d, 324th and 401st Bombardment Squadrons (Heavy) at Kimbolton with B-17Fs; HQ 92d Bombardment Group (Heavy) and 325th, 326th, 327th and 407th Bombardment Squadrons (Heavy) at Bovingdon with B-17Fs; HQ 93d Bombardment Group (Heavy) and 328th, 329th, 330th and 409th Bombardment Squadrons (Heavy) at Alconbury with B-24Ds; HQ 303d Bombardment Group (Heavy) and 358th, 359th, 360th and 427th Bombardment Squadrons (Heavy) at Molesworth with B-17Fs; HQ 305th Bombardment Group (Heavy) and 364th, 365th, 366th and 422d Bombardment Squadrons (Heavy) at Grafton Underwood with B-17Fs; and HQ 306th Bombardment Group (Heavy) and 367th, 368th, 369th and 423d Bombardment Squadrons (Heavy) at Thurleigh with B-17Fs. Twelfth Air Force: HQ Twelfth AF, XII Fighter Command, XII Air Force Services Command, and XII Bomber Command are attached to corresponding units of the Eighth AF in the UK; The Eighth subsequently handles the buildup of the Twelfth by assigning a large number of its own units to the new AF (appropriately dubbed JUNIOR) and supervises its training. The following combat units are transferred from the Eighth to Twelfth Air Force: HQ 1st Fighter Group and 27th, 71st and 94th Fighter Squadrons at Ibsley and High Ercall with P-38Fs; HQ 14th Fighter Group and 48th and 49th Fighter Squadrons at Atcham with P-38Fs; HQ 31st Fighter Group and 307th, 308th and 309th Fighter Squadrons at Westhampnett with Spitfire Vs; HQ 52d Fighter Group and 2d, 4th and 5th Fighter Squadrons at Goxhill with Spitfire Vs; HQ 60th Troop Carrier Group and 10th, 11th, 12th and 28th Troop Carrier Squadrons at Aldermaston with C-47s; HQ 64th Troop Carrier Group and 16th, 17th, 18th and 35th Troop Carrier Squadrons at Ramsbury with C-47s; HQ 97th Bombardment Group (Heavy) and 340th, 341st, 342d and 414th Bombardment Squadrons (Heavy) at Polebrook with B-17Fs; HQ 301st Bombardment Group (Heavy) and 32d, 352d, 353d and 419th Bombardment Squadrons at Chelveston with B-17Fs; and 15th Bombardment Squadron (Light) at Podington with DB-7s.
WEDNESDAY, 28 OCTOBER 1942, EUROPEAN THEATER OF OPERATIONS (ETO) Eighth Air Force: The last 2 squadrons of the 14th Fighter Group, the 48th and 49th Fighter Squadrons, leave the UK for N Africa; this completes the transfer of VIII Fighter Command's fighting units to the XII Fighter Command and leaves the VIII Fighter Command with only the 4th Fighter Group operational.
14 Nov 42: HQ 14th Fighter Group, HQ 62d Troop Carrier Group, and the 4th and 7th Troop Carrier Squadrons arrive at Tafaroui with C-47s
SUNDAY, 15 NOVEMBER 1942, NW AFRICA (Twelfth Air Force): In Algeria, C-47s fly an airborne operation from Algiers to Youks-le-Bains; escort is provided at intervals by Royal Air Force (RAF) Spitfires and Hurricanes. British First Army ground forces reach Tunisia at Taberka; the following units arrive at Tafaraoui from the UK: HQ 14th Fighter Group; HQ 62d Troop Carrier Group and the 4th and 7th Troop Carrier Squadrons with C-47s; the 94th Fighter Squadron, 1st Fighter Group, with P-38s.
WEDNESDAY, 18 NOVEMBER 1942, NW AFRICA (Twelfth Air Force): In Algeria, several P-38s are damaged in an enemy air raid on Maison Blanche Airfield; HQ 14th Fighter Group moves from Tafaraoui to Maison Blanche
SATURDAY, 21 NOVEMBER 1942, NW AFRICA (Twelfth Air Force): In Algeria, P-38s of the 1st Fighter Group arrive at Nouvion to replace the 14th Fighter Group in escorting B-17s; during the night of 21/22 Nov enemy aircraft again hit Algiers, damaging several aircraft and destroying a B-17.
SUNDAY, 22 NOVEMBER 1942, NW AFRICA (Twelfth Air Force): In Algeria, HQ XII Bomber Command arrives at Tafaraoui from the UK; HQ 14th Fighter Group moves from Maison Blanche to Youks-les-Bains
5 JANUARY 1943, WESTERN MEDITERRANEAN (Twelfth Air Force) The 48th Fighter Squadron, 14th Fighter Group with P-38s moves from Youks-les-Bains to Berteaux, Algeria.
Notes from M/Sgt. Norman G. Schuller, 12045371 48th Fighter Squadron
Jan. 1, 1943
North Africa. Field # 5, Youks Les Bains. Routine work. Plugged hole in Capt. Johnson's prop.
Jan. 2
Lots of prop work – helped replace wing. Jerry bombed Tebessa again tonite.
Jan. 3
Pulled 2 props. Jerry hit Tebessa this evening again. 3 ships shot up pretty bad today, no pilots lost. Been on lots of missions lately.
Jan. 4
Flew from Youks Les Bain to some damn place. #6 landed at wrong field and rode truck to another. Put up shelter tents in the dark. Living with Barnes.
Jan. 5
Still at same field, Berteaux, our planes came in about noon. Seems good to get edible chow. First since we hit Africa. Had mutton stew ever since we hit the country.
Jan. 6
Field #7 Berteaux. Most of the men are here now. Barnes and I dug a shallow trench by our tent this eve. The Ju 88's and Me 109's raised hell at Youks Les Bains last nite. That is the 3rd time I left just ahead of it.
Jan. 7
Nothing new. Our 38's took a sweep with the 25's and 26's. No reports. Go on guard tonite at 10:00 for 4 hrs. First guard I even pulled since I came in the service.
Jan. 8
Guard uneventful last nite. Not much doing today. Did laundry and wrote couple letters.
SATURDAY, 9 JANUARY 1943, WESTERN MEDITERRANEAN (Twelfth Air Force), HQ 14th Fighter Group and it 49th Fighter Squadron with P-38s move from Youks-les-Bains to Berteaux, Algeria.
Jan. 9
Not much doing today. One alert. Didn't sight enemy aircraft. Hear bombing every nite but nothing doing here yet. Paid 3 mo. Wages today – 8685 Francs.
Jan. 10-11
Routine! Hear distant bombing nearly every nite. Heavy bombing a bit nearer about 9:00 this morning. Went to Constantine today for shower parts. Building a portable job. Long time no bath.
Jan. 12
Straightened prop blade this morning. Worked most of the day on the shower boiler.
Jan. 13
Moved to new field #8 across road. Jerry dropped flares about nine in the evening but couldn't locate us.
Jan. 14
Worked on low stabilizer change today. Got a few gas cans for our "house".
Jan 15
Worked on Carb. Change with Randall.
Jan. 16
Worked on engine change today. Barnes and I dug our tent in this evening by moonlight. Miles of big tanks rolling by tonite. Going east.
Jan. 17
Still on engine changes. Lots of 'em due.
Jan. 18
Routine work – weather getting warmer now. Hope winter is about over. Heavy frost and ice in the morning but warms up fine during day.
Jan. 19
Still changing engines. Lost Capt. Fulmer and Lt. Warren. Capt. down in flames. Barnes and I designed solinoids for my chronograph this evening. Tanks still rolling by.
Jan. 20
Working with Randall on engines. Miles of tanks and equipment going by.
Jan. 21
Beautiful warm day – GI trucks and guns still moving east. Work on shower boiler again today. For the last hour and a half this evening there has been heavy bombing and AA somewhere. No fires in view. Don't know who is catching hell under this full moon tonite. An Me left a beautiful vapor trail overhead today, probably 30,000 ft. or over. No action tho.
Jan. 22
On Parachutist chasing detail today. Searching all houses etc. of several Arab villages. Our detail found no Krautheads. Two found in Arab clothes by other outfit.
Jan. 23
Lost St. Yates and Lt. Shottlekorb today. Exploded and crashed. Four other of our new pilots missing also. 2 ships definitely lost and 4 – 49th ships missing. Hear heavy explosions again tonite. Must be big bombs. Got haircut today – first since "dear old England." Capt. Watson got the German that killed Yates, Me 109. Met lots of flak and 109's overhead. Hit a new field that they didn't know about. Lots of 109s.
Jan. 24
Our boys escorted 36 – 25's and 26's back to the field where we lost 6 men yesterday and dumped a hellova load of frag bombs. Reported field blown beyond recognition. Good deal. Jerry was around quite a bit last nite, but can't locate us.
Jan. 25
Worked on bullet hole in supercharged today. Lt. Shipman (one of missing of Jan 23) called in today. Is O.K. and on way back. Three Me 109's got on his tail.
Jan. 26
Lt. Shipman came in today stripped of clothes. Landed in enemy territory and Arabs cleaned him. Feeling fine and rarin to go.
Jan. 27
Our boys went with the 25s and 26s today and sank a ship. Went to Constantine today and had a fine time, meal shave, etc. good beer. No souvenirs left. Bought 17 candles for our tent for 95 francs.
Jan. 28
Our planes left our squadron today for 82nd group. Our "old" pilots are going home. Enlisted men holding the bag. Don't know what will happen to us. Plenty of rumors and no facts. Spent day changing punctured gas tank.
Jan. 29
Worked on gas tank all day. Col. Olds gave talk. Pilots said good-bye. They leave tomorrow. Four enlisted men – "Pappy" Hagen, Hayes, Coleman, Pritchett. Soon we'll go "back" of lines to reorganize and rest we hope.
Jan. 30
Routine work. Pulled up our field lights.
Jan. 31
Major Wallas flew back to say goodbye. He really disliked leaving us here. We turned most of our equipment over to the 82nd Gp. Finished engine change on our last ship. It will leave tomorrow also.
Feb. 1
Had the day off. All ships gone. Spent day doing laundry etc. Moose got his radio working. Sounds like we are winnin.
Feb. 2
Done laundry today. Sgt. Of guard tonite till 12:00.
Feb. 3
More laundry – finished now. Plenty of rest. We had a movie in a big tent tonite.
Feb. 4
Resting plenty lately. Nothing happening and no news. A Ju, 88 went over today but didn't drop anything.
Feb. 5
Six planes P38s came in today from Biskra. Left after minor repair and servicing. Plenty of dust on 'em. Biskra is a hellova desert hole – they were 1st pursuit ships.
Feb. 6
Lots of rest. Threw the football around a bit.
Feb. 7
A Foche Wulf 200 K. went over high today. Threw a little stuff our way – no bombs. 70 of our bombers visited Rommel's army again today. 17s and 25s and 26s. Can hear bombs again tonite. Paying somebody back I guess.
Feb. 8
Nothing ever happens. Hauled gas for bombers. Ain't that a deal – for the bomber boys.
Feb. 9
Just resting.
Feb. 10
Went to Constantine today. Had a swell time with Tomkins, Tognetti, Moose and Barnes. Ground is white with snow tonite.
Feb. 11
Rain melted the snow by afternoon. Has been raining like hell for 24 hrs. Bailed water off blanket before turning in tonite. If it keeps we'll have to move out of our hole.
Feb. 12
Cleared up – still cold and snow on the mountains. Lots of boys flooded out of their holes. We started making a set of chess men in Moose's shack this evening. Gone back on 2 meals a day again.
Feb. 13
Played chess this afternoon and evening.
Feb. 14
Nothing new-except they are throwing sardines into the stew now. Gad, what next.
Feb. 15
Went to Constantine again today – fair meal –bought 95 gr. of silver bracelets for 470 fr. German Chutists have taken Constantine and the P40s there. We must be about 40 miles from Tebessa.
Feb. 16
Nothing doing. Still cold, little snow on the mountains yet.
Feb.17
Sadler got burned badly with gasoline this evening.
Feb 18
Lt. Silliman sent several of us to the B25 Field to help them tell we get new ships. Don't know how to figure this. Jerry reported to be within 18 miles of Tebessa ("not confirmed")
Feb. 19
Weather closed in. Poor visibility. Stayed away from B25s. Service sqdn. moved in at other field.
Feb. 20
Our new plane and pilots were supposed to come in today. Weather still bad. Rained considerably but seems to be clearing up.
Feb. 21
Weather fairing up. Still no planes. This resting is hell.
Feb. 22
Sleep and eat – lots to do and no planes. Jerry advancing. Planes left field at Youks Les Bains as Jerry nears Tebessa. Big convoy moving toward front again tonite. Hope we get ships soon. Bombers busy.
Feb. 23
Jerry played around overhead lst nite. Trying to draw fire. Didn't drop anything. Don't know whyinhell we stay her. No ships.
Feb. 24
Thunderstorm today with hail. Jerry on the run again. Driven out of Kaserine pass and retreating less men and equipment.
Feb. 25
Rained like hell again. We are to move up again (the 27th.) No details. Probably be lively there. Still no news of new planes.
Feb. 26
Told we are moving back. Instead of front about 1200 miles. Will take us to Fez for reorganization. Trip to be made by 40 and 8 rail 40 Hommes or 8 Cheveaux.
Feb. 27
Leaving tomorrow. Packed today. Not looking forward to trip. There won't be room for all to sleep at once. Don't know what to expect when we get there. Nobody knows.
SATURDAY, 27 FEBRUARY 1943, The 37th Fighter Squadron, 55th Fighter Group with P-38s arrives at La Senia, Algeria from the U.S. This squadron will become the third squadron of the 14th Fighter Group when it is reassigned to the 14th on 1 Mar.
SUNDAY, 28 FEBRUARY 1943, WESTERN MEDITERRANEAN (North African Air Force) The 48th Fighter Squadron, 14th Fighter Group with P-38s transfers from Berteaux, Algeria to Mediouna, French Morocco for R&R.
Feb 29
Left Berteaux about 7:00 this eve. Terrible night. 30 men in 8 x 24 car. No sleep.
Mar 1
Still rollin. Dolson, Sholts and I are now in a camouflage net hammock. Should sleep now in spite of flat wheels.
Mar 2
Good night sleep last nite. Gone thru some beautiful mts. Eatin field rations. Yank rations. Hittin swell weather. Like California.
Mar 3
Moose got 2 bottles cognac. Oh Boy! Beautiful green country here. Past Oran
Going west now. Enjoying trip. Raided ration train. Eatin good now.
Mar 4
Still traveling. Doing O.K.
Mar 5
Landed at a field about 20 mi. from Casablanca. Looks like a Goddam recruit camp. The boys here think we are recruits but Tebessa story slows them down.
FRIDAY, 5 MARCH 1943, HQ 14th Fighter Group and it's 49th Fighter Squadron with P-38s are pulled out of combat and transferred from Berteaux, Algeria to Mediuna, French Morocco.
Mar. 6
Certainly seems good to be in barracks again on wooden bunks with hay. Don't know why we are here. No dope as yet.
Mar. 7
Sunday. Took cartridges out of my rifle today, don't need 'em here I guess. Paid $38.50 in overprinted American money. Turned in shortages in equipment today.
Mar. 8
Doing nothing – wish something would happen soon.
Mar. 9
Took typhus and tetanus shots today. Some men sent to Casablanca today to check some ships.
Mar. 10
Routine. Lots of sleep.
Mar. 11
Went to Casablanca to work on some 38s today.
Mar. 12
Went to Casablanca again today. Finished putting in reserve gas tank.
Mar. 13
Day off – pass to Casablanca with Dolson. Has a good time. Damn good beer.
Mar. 14
Worked on line here at aM this afternoon. Don't know whether they are our ships or not.
Mar. 15
Changed a prop governer. Seems good to work again.
Mar. 16
Seems definite that the ships are ours. We are reorganizing, new ships and pilots. Expect to go to the front again now. Rumors of going home pretty well died out.
WEDNESDAY, 17 MARCH 1943 (ST. PATRICK'S DAY), WESTERN MEDITERRANEAN (Northwest African Air Force), The 37th Fighter Squadron, 14th Fighter Group with P-38's transfers from La Senia, Algeria to Mediouna, French Morocco.
Mar. 17
Routine.
Mar. 18
Checked valves. Nice Weather.
Mar. 19
Filed prop and replaced two others. Received 4 letters and two Christmas packages. Hot as hell today.
Mar. 20
Work as usual.
Mar. 21
Pounded a bird dent out of prop spinner. One of our ships bellied in today. Pilot forgot to let wheels down I guess. Thirteen pilots taken to front today. Don't know the deal for us.
Mar. 22
Work as usual. Eatin good now.
Mar.23
Working with Randall all on most everything.
Mar. 24
Rained like hell. Day off, seems funny to coast,
Mar. 25
Seems evident that we take a boat trip now. Turned in weight and ? displacement of equipment today. New shovels and picks came into supply today. Rained again, knocked off at 2:00.
Mar. 26
Rained again. Day off.
Mar. 27
Went to Casablanca today with Moose and Wilhoit. Had a good time. Bought a ring and lot of beer.
Mar. 28
Seven ships left today and about a dozen came in from the 84th in England. (My old squadron). Looks like we will hit the front again somewhere soon.
Mar. 29
Routine.
Mar. 30
Have a new C.O. and also adjutant. Haven't seen 'em.
Mar. 31
Work as usual. Wish something would crack. Can't figure what we'll do.
Apr. 1
Work as usual.
Apr. 2
Nothing ever happens.
Apr. 3
Went to Casablanca with the "gang". Had a lot of beer. Bought a couple pipes. Had some so called ice cream, first since August. Had a good time.
Apr. 4
Pulled valve check. Had afternoon off by order of new C.O. Played volley ball.
Apr. 5
Rumor of our group becoming high altitude escort outfit.
Apr. 6
Couple new props came in. Taking shortages on tools.
Apr. 7
Rumor of advanced air echelon. Hope I make this one again. Sooner the better.
Apr. 8
Nothing ever happens.
Apr. 9
Worked on Doc's ship all day, running rough. Still can't find the bug. Changes $90.00 in U.S. money to African cash in anticipation of the franc coming up in value again.
Apr. 10
Went to Casablanca today with D.V. Brown, Tognetti, Tomkins, and Elver. Had a good time.
Apr. 11
Went to the strafing range this afternoon for a swim. Good for a change.
Apr. 12
Work as usual.
Apr. 13
Work and sleep. Locusts flying over in swarms.
Apr. 14
Changed prop. Working on engine changes.
Apr. 15
Damn locusts are a hell of a mess. Sticking to our ships and radiator. Went to aF on a beach party and beer bust. Good time.
Apr. 16
SNAFU
Apr. 17
Locusts still in the air. They even bend prop spinners. Working on engine change.
Apr. 18
Went to Casablanca airbase with Resweber yesterday. And busy today on intercooler change.
Apr. 19
Air echelon going back to the front soon. Lucky enough to get on it again. Worked on intercooler and prop today.
Apr. 20
Work as usual. Rumors of air echelon called off, possibly whole.
movement.
Apr. 21
Changed flap valve. Received new ship, total of 31 now. No news of move.
Apr. 22
Took first dose of Atabrin since landing. Will get it twice a week.
Apr. 23
Tempered screwdriver bits today. Worked on nose strut this morning.
Apr. 24
Changed hydraulic tank. Worked late.
Apr. 25
Working on surge tank. Ground outfit to leave soon. Air echelon will follow later.
Apr. 26
Went to Easter services yesterday. The trucks left today, first to leave.
Apr. 27
Train group left today leaving only air echelon and small truck convoy here.
Apr. 28
Worked on supercharger change. Plenty of trouble with these new ships. Bad shape. Hope we get 'em ironed out before they meet Jerry.
Apr. 29
Changed wing today.
Apr. 30
Changed carburetor today. Orders to pack tonite. Will take off for front at 10:00 tomorrow morning, weather permitting. Bad throat cold seems to be sneaking up.
May 1
Weather closed in during the night. Rained today. Will sleep here tonite again.
May 2
Still raining, whole area a sea of mud and water. Visibility so bad even the birds are walking. Sleeping all day and nite curing my cold pretty well.
May 3
Cleared up during the night. We got a bunch of jeeps today. I am assigned to drive one instead of flying. To leave 8:30 tomorrow.
May 4
Left aM Air Base on time. Drove all day. Covered about 185 mi. Bivouacked near Fez. Shacking with Flieg.
May 5
Making fair time. Saw some beautiful country.
WEDNESDAY, 5 MAY 1943, WESTERN MEDITERRANEAN (Northwest African Air Force), After regrouping and re-equipping, HQ 14th Fighter Group and it's 37th and 49th Fighter Squadrons with P-38's transfer from Mediouna, French Morocco to Telergma, Algeria
THURSDAY, 6 MAY 1943, WESTERN MEDITERRANEAN (Northwest African Air Force), The 48th Fighter Squadron, 14th Fighter Group with P-38's transfers from Mediouna, French Morocco to Telergma, Algeria.
May 6
Hit the big mountains around Sidi Bel Abbes. Went into a little town this evening. No beer, wine or liquor. Got in too late. Weather not too bad.
May 7
Bivouacked at Arba. Got a skin full of vin blanc.
May 8
Arrived at Telergma about 8:00 this evening. Moose, Barnes and Tog had a place for me in their tent.
May 9
Our ships escorted 17s (123 of them), 26s and A20s over to Sicily really giving 'em hell. Bizerte and Tunis fell yesterday or the 7th. Capt. Ross got one Italian fighter plane today.
May 10
Not very busy. Ships went on one high altitude mission today. Pilots couldn't see results of bombs. Several loads of 100 pound demolition bombs came in. Plan on using them on our fighters.
May 11
Chow isn't too good, but plenty of it. Giving Jerry hell on the peninsula.
May 12
Changed supercharger regulator today. One mission all returned. Belly tanks.
May 13
Drew our African campaign bar today. Started supercharger change. Fighting has ceased in Africa today. Campaign is over. Some Jerry equipment going west.
May 14
Supercharger in and O.K.
May 15
Col. Eddie Rickenbacher talked to us today. Wonderful speaker. His opinion is that the European campaign will last till fall of '44, Japan a year longer.
May 16
Worked on a wrecked nose gear door all day.
May 17
Went to Constantine on pass today, not much there.
May 18
Our ships escorted 17s today. Scholts's plane got all shot to hell. Landed at Bizerte. Came down from 27,000 ft. Mc.Cords flight of four met 6 FW190s. Lt McCord got two. Two of our ships still missing.
May 19
Tog lost his ship today. Bellied in here. One engine caught fire at 27,000 ft.over Sicily, blew his fire out in a dive. The 49th lost two that went after a FW190. Usual bait ship.
May 20
Work as usual.
May 21
Nothing new.
May 22
Camera film came in today.
May 23
Working on every damned thing.
May 24
Our ships carried one belly tank and one 500 lb. bomb. Downed 3 planes and two boats today, direct hit with the bombs.
May 25
They loaded 1,000 lb. bombs on 'em this evening. They shot up water tower. Ack ack etc. Some had flak holes in 'em.
May 26
Bombed power plants and damns. Bailey's pilot shot the hell out of a town clock. Lt. Saunders bailed out over Sicily. The ack ack was working on him after his chute opened.
May 27
Made Staff Sgt. today.
May 28
Went to town today. Our boys got 2 Me 109s today. One of ours down at Tunis with engine out and another missing.
May 29
One of our boys landed in the drink. Got out O.K. and a Walrus picked him up.
May 30
Working on a radio T.O. change.
May 31
Still on T.O. change. Our boys are doing well with the 1,000 lb. eggs, hitting dams and gun emplacements.
June 1
Nothing new.
June 2
Same way.
June 3
Put in hydraulic pump. Keeping busy these days.
THURSDAY, 3 JUNE 1943, WESTERN MEDITERRANEAN (Northwest African Air Force) HQ 14th Fighter Group and it's 48th and 49th Fighter Squadrons with P-38's transfer from Telergma, Algeria to El Bathan, Tunisia.
SUNDAY, 4 JULY 1943 (INDEPENDENCE DAY), WESTERN MEDITERRANEAN (Northwest African Air Force), The 37th Fighter Squadron, 14th Fighter Group transfers with P-38's from Telergma, Algeria to El Bathan, Tunisia.
June 4
Gettin hot as hell lately. No shade, no clouds. Dust is getting bad today too.
June 5
Bombing with 1,000 pounders every day.
June 6
Changed an intercooler.
June 8
Went to Constantine on pass, Moose, Barnes, and myself.
June 9
Still bombing.
June 10
Work as usual.
June 11
Pantellaria fell. This was target for the past few days. The island is a mess. Troups there now.
June 12
As usual.
June 14
Lost 2 ships today. The bastards got Capt. Anderson, knocked an engine out and he hit the other ship. He was a swell Joe.
June 15
Worked on engine change.
June 16
Finished engine change. Run up sweet.
June 17
Shake up today. Moose, Hayes and Pinkie are to be flight chiefs. The boys on transfer are to leave tomorrow - India I guess. Day off today.
June 27
Packed all engineering equipment for a move. Leaving tomorrow. Going up Tunis way.
June 28
No move – ships on mission today, got 4 Me109s. And one ship had a wing shot beyond repair.
June 29
Worked on wing all day.
June 30
Ships came back O.K. finished wing change. Flew fine. Went swimming this evening near Chateau Dun.
July 1
Loaded some trucks tonite. They leave tomorrow morning. Dust here and heat is getting hellish. Must be Sirocco.
July 2
Ready to leave in the morning. Sleeping under the stars tonight.
July 3
We left Telergma 4 this morning. Got here at Elbathan about 10:00. Covered a lot of battleground. Never had such a hellish ride – respirator and goggles. Roads torn to hell and a hell of a field here and hot.
July 4
Never felt such heat. Must be 120 in the shade and no shade. Got good water now. This place will be hell before long.
July 5
Water situation bad. Went swimming in the river.
July 6
Jerry bombed the hell out of someone about 4:30 this morning. Never saw such a sheet of flak. Four reported knocked down. Night fighters or flak. Wind was blistering hot today. We couldn't work. Must have been 135 or so.
July 7
Water better. Dug fox hole.
July 8
Boys are giving Sicily hell lately. Went into Tunis on pass. Got some beer. Lots of wreckage at the docks.
July 9
Lt. Kennedy killed when he hit the runway. Both engines cut out and he burned when he crashed near Tabourba.
July 10
Invasion of Sicily took place at 3:00 this morning. Three places hit. Seems everything is O.K. Our pilots find little flak or aircraft. They are having a hell of a lot of fun strafing trains, bombing roads, etc.
July 12
Got 2 Macchis and 2 Mes. Lost one ship. One came with engine burnt up and intercooler blown up.
July 13
The boys got 4 today. Working on engine change. We lost Lt. Stidham.
July 14
Went swimming at Carthage today. Swell beach.
July 15
Siesta again today. Hot as hell again. Still on an engine change.
July 16
Resweber is now our engineering officer. Things should be better.
July 17
Randall went to the line. Burkhart is on my crew. Swimming at Carthage again today. Beer bust this evening.
July 18
Bad case of galloping GIs today.
July 19
The boys got 8 enemy aircraft. Junker 52s mostly. Good hunting. And bombed Rome.
July 20
Feel pretty good. Weak but eating. Hot as hell again and wind is a scorcher. Work on Sicily going fine.
July 21
About 70% of the squadron has GIs. Me too.
July 22
Hot as hell. Changing engine and intercooler.
July 23
Plenty warm for hard work. All the boys are losing lots of weight. We are supposed to move in the next few days.
July 24
Lt. Stidham came back today after escaping from Germans twice on Sicily.
July 25
Made assistant engineering chief today. Some of the men moved today to Ste. Marie du Zit.
SUNDAY, 25 JULY 1943, WESTERN MEDITERRANEAN (Northwest African Air Force), HQ 14th Fighter Group transfers from El Bathan, Tunisia to Ste-Marie- du-Zit, Tunisia.
July 26
Arrived at Ste. Marie du Zit about 7:00 this eve.. Swell place. Trees, birds, even a well. Best place since Atcham. Old German field full of boobie traps and mines, old planes etc.. Mosquitoes are bad.
MONDAY, 26 JULY 1943, WESTERN MEDITERRANEAN (Northwest African Air Force), The 37th Fighter Squadron, 14th Fighter Group, transfers from El Bathan, Tunisia to Ste-Marie-du-Zit, Tunisia with P-38's.
July 27
Have the GIs again. Didn't work this afternoon.
July 28
This is the field where they captured Gen. Von Arnum. Also the hot spot our boys found in January and lost so many pilots.
July 29
Rumors of returning to England. Hope so.
July 30
Bought a couple of watermelons. Beer ration tonight.
July 31
Work as usual.
Aug. 1
Got some new pilots (5) and three new ships. Shook 'em down today.
Aug. 4
Two ships missing.
Aug. 5
Ships lost yesterday came in. Number 5 had about one quarter of empennage shot away. Changing whole assembly. A recruit pilot remarked that the crews at home do much better than we do. Fleig told him off.
Aug. 6
Working on empennage all day. Hell of a job.
Aug. 7
Boys are getting a lot of German, Italian, French and English motorcycles. Some fun.
Aug. 8
Test hop on #5 O.K..
Aug. 9
Dust is hell here for a few days. Hope the wind stops soon. Usually blows for a few days at a time.
Aug. 11
Dust is hell here. Wind's still blowing. We had better give Africa back to the Arabs.
Aug. 12
Bob Hope and Francis Langford were here today. Good show. Wind stopped today.
Aug. 14
Lots of work. Engine changes, etc..
Aug. 17
Lost 4 ships today and 4 rookie pilots. The boy that criticized our work went down in flames. Two ships came back shot up bad. They loaded 1,000 pound bombs on ships for tomorrow's mission. Heavy bombing somewhere tonite. Sounds Bizerte way.
Aug. 18
The boys bombed and strafed hell out of several evacuation troop trains in southern Italy. Sicily fell today.
Aug. 21
Working like hell. Rigging wing today. Notified we are moving in a week. Opinion says Sicily.
Aug. 23
On advanced air echelon again. Pack bags tomorrow – light as possible. They promise another Youks. Expect invasion in a day or two. Barnes is going and leaving the Moose here.
Aug. 24
Nothing new. Having lots of trouble with our old ships. Most have around two hundred combat hrs..
Aug. 25
No news of move. High altitude mission today. They got 2 Me109s and one 202Macchi.
Aug. 26
High altitude.
Aug. 27
High altitude and they came back in good condition. Better with the new turbo linkage. A GE man is here and knows his oats. The B17s bombed from 33,000 ft today. No enemy that high.
Aug. 28
Smith piled up on a German cycle today. Fractured skull. I went to El Aouina today for parts. I went to Zaghauon this evening. Made engineering chief today.
Aug. 29
Another hellish dust storm today. Called work off for a time. Busy never-the-less. Put recommendations in today for engineering.
Aug. 30
Dust storm.
Aug. 31
Dust died down a little. My engineering job is keeping me busy as hell. Getting the hang of it tho.
Sept. 1
Getting ready to move.
Sept. 4
All set to go. Toe of boot.
Sept. 5
Equipment for 6 days and a few boys left here this noon in C47s . Barnes and Schulgen left. Ships came back from mission in fair shape. Leaving for Sicily at 7:00 tomorrow morning. Glad to leave Africa for a bit.
Sept. 6
Sleeping in Sicily tonite. Gas and transportation situation is bad. The ships came in this afternoon. Green field.
Sept. 7
No operations today. Getting in shape for tomorrow hauling gas in drums.
Sept. 8
Mission today. Eating mutton stew again. This field near swamp near Lentini south of Mt. Etna. Plenty mosquitoes.
Sept. 9
Italy surrendered last night. Flew 3 missions today. Made T/Sgt. today.
Sept. 10
Working like hell. Up at 5:00 this morning, worked till 12 midnite. Three missions.
Sept. 11
Boys have little opposition. Dive bombed today with 500 pounders.
Sept. 12 – 18
Working like hell, keeping 21 to 23 ships in the air out of 25. Three missions a day. Damned pilots not getting many German ships. Dropping their bombs safe. Too anxious to get 50 missions in and go home. The squadron left here today for Ste. Marie du Zit. They left Morland, Maulden, Houske, Andrews and myself there with three ships, one engine change, elevator shot up and hydraulic trouble. The pilots strafed today.
Sept. 20
Working hard at these wrecks. Houske's sick.
Sept. 21
Andrews, Maulden and myself have the GI runs. Moreland has infection in hand.
Sept. 22
Houske, Andrews and Moreland went back to Africa today. Maulden and I left here to finish. We'll leave here on B25 tomorrow. Looks like rain tonite. Bad place in this swamp.
Sept. 23
Worked like hell to get our ships out of here. Came "home" to Ste. Marie du Zit Africa on B17 this afternoon.
Sept. 24 and 25
Coasting for a couple of days. Seems good to sleep in.
Sept. 26
Went to work at noon. Lot more men in engineering now after losing ships. About 30 men now.
Sept. 27
Number 19 bellied in. Hydraulic system out. Pilot failed to close shut off on emergency system.
Sept. 28
Work as usual. Rained like the devil for awhile. Cold tonight. First rain in months.
Sept. 29
Taken to 58th station hospital for treatment of intestinal parasites. Nice place. Sheets on beds.
Sept. 30
Be out soon. Start dynamite treatment tomorrow
Notes from Captain Max J. Wright, 48th FS, October 1, 1943 - April 24, 1944
October 1, 1943 - The squadron flew two twelve ship missions, escorting B-17's to Leghorn, Italy. All of our planes returned safely with the exception of Lt.Wright who landed with two fifty calibre bullets in his wing and fuselage.
November 20, 1943 - Training flights are being flown by the new pilots under the directions of Lts. Rice, Barber and Wright.
Notes from M/Sgt. Norman G. Schuller, 12045371 48th Fighter Squadron
Oct. 5
Out of the hospital today. Back to squadron. Found that air echelon went to Tobruk this morning. Going to try to go there on transport load of belly tanks tomorrow morning.
Oct. 6
No ships came in. Rain.
Oct. 7
Flew to Libya today, south of Tobruk. Field is a hell hole of sand and wind. Big runway – 1 x 3 miles. Water deal is bad.
Oct.8
Wind not so bad today but miserable as hell. Work as usual. Gas situation not so bad.
Oct. 9
Sand storm.
Oct. 10
Had to quit work this afternoon. Too much sand. Pilots report dust in air 40 miles at sea and 9,000 ft. high.
Oct. 11
No mission today. Went to Sgt's mess today in Aussie's area and got some brandy tonite.
Oct. 12
Ships left at noon today for Ste. Marie du Zit.
Oct. 13
I left by transport from Gambut this afternoon. Landed at Benghazi for the nite, sleeping in a hanger.
Oct. 14
Left Benghazi about 8:30, arrived at du Zit about 2. Raining here. Wonderful change.
Oct. 15 – 21
Nearly crazy with work. Everything wrong. Engines going out at 50 hrs..
Oct. 22
Ten men went to Italy to service our ships on long mission.
Oct. 23
Planes back again O.K.. Men still in Foggia. Mission wasn't too successful. Target heavy with flak and bad weather.
Oct. 24
Starting new schedule. Roll call, inspections, etc.. Guard 24 hrs. a day – all grades except department heads. Maintenance will be poor.
Oct. 25
Have a new CO. Major Baggot. Seems to be "on the ball."
Oct. 31
We have 3 echelons out now. Two in Italy and two "somewhere". Looks like Moose and Hayes and Schulgen are in different places. Randall has malaria so Barnes and I are alone again working like hell on these ships.
14th FG was assigned to Triola, Italy on 12 Dec 43 and assigned to Lesina,on Sep 9,1945.

Notes from Captain Max J. Wright, 48th FS,
January 7, 1944 - Capt. Richards led 8 planes on bomber escort to Weiner Neustadt. Due to weather, area bombed could not be discerned. Lt. Wright destroyed 1 Me-110 and Capt. Richards fired a long burst at long range into an Me-110 but effect of fire could not be seen as e/a dove down through clouds.
January 9, 1944 - Today's primary target was abandoned in favor of Pola, Italy, the secondary target Lt. Wright led 10 planes, escorting bombers with no enemy interference encountered. Bombs covered entire waterfront and dock area. Here at camp, beautiful weather has been experienced with frost covering the ground every morning and yet days are balmy, even with a touch of spring in them though it's a long way off.
January 16, 1944 - Lt. Wright was squadron leader today and took off with an eleven plane formation to Klagenfurt, Austria. In the Ljubljana area they were jumped by 15 Me-109's and a short dogfight ensued. There were no claims. Lt. Williams left engine was seen to catch on fire though no enemy had been observed within firing range. He bailed out and was last seen entering a cloud layer at 10,000 ft. with his chute still unopened. It is thought that he purposely delayed it so there is reason to believe he may still be alive.
January 18, 1944 - Today nine P-38's, all that in commission at present, led by Lt. Wright escorted B-17's to bomb Pistoia, Italy. Also Bondetera was well hit. No e/a were encountered all our planes completed the mission.
January 22, 1944 - Ten P-38's led by Lt. Wright went on a strafing mission in support of the invasion south of Rome. The mission destroyed a total of seventeen trucks and silenced three machine gun positions. After covering their territory south of Rome they flew back to base crossing the coast at Anzio Pt. where they saw many landing craft along the beaches as the invasion got underway.
January 24, 1944 - Our planes flew on bomber escort to Sofia, Bulgaria where the A/D was attacked. Lt Wright led a fight of 8 ships which met 6 Me109's near Leskovad, Yugoslavia, entered into short engagement but there were no claims or losses.
January 30, 1944 - Lt. Wright led a 10 plane flight to Manigo L/G, Italy. The squadron patrolled south of the target and did not observe the bomb results on the L/G. Fires apparently made by previous raids observed in the Udine area.. Four FW-190's were seen in the Udine area and Lt. Wright saw one of them in position which indicated he was about to attack a P-47. Diving down on the Focke Wulf he fired a long burst into it and it was later seen to explode in the air by F/O Bowerman.
February 23,1944 - The target for today was to Georgen, Austria, and Lt. Wright led 15 of our planes there making contact with bombers and also 15 e/a. The enemy fighters were finally driven away from the bomber formation. Lt. Wright got credit for an Me-210, One Me-210 probably destroyed, two Me-109's were probably destroyed. An Me-109 was seen to explode in the air. Two submarines were observed in the harbor at Split. The bombers were escorted back towards base as far as Vis Island. There were three early returns. All planes returned safely.
March 2, 1944 - Lt. Wright led 14 planes on a bomber escort mission over the Anzio Beachhead. Planes patrolled the area for an hour and ten minutes while bombers made runs. No encounters.
March 17, 1944 - Lt. Wright was the flight leader of 15 planes which escorted bombers to Fishamund A/C factory, Austria.
March 29, 1944 - Capt. Wright led 12 planes to Bolzano M/Y, Italy, escorting B-24's. About 40 miles NW of Venice, the squadron was attacked by a formation of Me-109's and FW-190's. Capt. Wright's left engine was shot out but he got the Me-109 that did it.
March 30, 1944 - Capt. Wright led 10 planes on a bomber escort to Sofia, Bulgaria today. The bombers scored excellent hits in the city. Eight Me-109's were encountered. Capt. Wright attacked one and saw it explode.
April 3, 1944 - Colonel Taylor led 10 planes on a bomber escort to Budapest, Hungary. Between 20 and 25 enemy aircraft are encountered. Capt. Wright destroyed an Me-210 for his 5th victory, making him an ace. All our planes returned safely.
April 8, 1944 - Capt. Max J Wright was presented with the Distinguished Flying Cross Medal and the Air Medal.
April 10, 1944 Captain Max J Wright left for the states and returned to Chappell and spent a twenty two day furlough with his wife, son and parents. After the termination of his furlough, Max served as an instructor on Fighter Air Craft at Maseo Lake Field, Washington. After a few months of this work he began to feel he was not doing enough, again requested foreign service, and was sent to the South Pacific. At the time of his death he was serving for the second time overseas, and stationed with our Air Forces in New Guinea.
April 24, 1944 Captain Max J Wright was killed in a plane crash Oct 24, 1944.
Rommel, by now much more aware of the effectiveness of Allied airpower, came up with a daring new plan: He would launch an attack that would overrun Allied airfields and accomplish the dual objectives of destroying aircraft while capturing fuel supplies needed for his mechanized units. The key to this quick thrust was an area known as the Kasserine Pass, through which the Panzers could make their run directly at the Allies.
Massing his forces, Rommel stormed through the pass but was met by heavy Allied resistance. His armored units mauled, Rommel had no choice but to retreat once again. Bottled in against the sea and surrounded by victorious Allied units, the Germans were not about to give up and the bloody fight continued.
Operational losses among the Warhawk units had been high and the 33rd FG was especially mauled with only a dozen P-40Fs remaining operational. The French, flying as the Groupe Lafayette, had also lost ten of their limited numbers of aircraft so both units were ordered back to Casablanca to rebuild their strength. The French received three dozen P-40Ls and formed three squadrons that picked up the insignia and traditions of famous World War One units: Sioux, Cigognes, and Diables Rouges. Returning to combat in March, the French compiled a brave record against Luftwaffe Fw 190s and Bf 109s.
On 18 May 1943, the last fighting Axis units in North Africa surrendered to the Allies and, by this time, there were five Warhawk groups in action in North Africa (33rd, 57th, 79th, 324th and 325th). There is no doubt that the Curtiss fighters played an important role in defeating what was once a nearly invincible enemy.
Individual acts of heroism by the North Africa P-40 pilots caught the public's attention and one such event was when Maj. Philip Cochran, 33rd FG, skipped a 500-lb bomb directly into the Hotel Splendida, Kairouan, which just happened to be the location of German headquarters. Artist Milton Caniff was quite taken by the pilot's many daring actions and he was soon immortalized in the cartoon strip Terry and the Pirates as the rough and tumble "Colonel Flip Corkin."
P-40s also participated in the "Palm Sunday Massacre" which took place on 18 April 1943. The Germans, desperate to supply their troops, were launching huge flights of transports that soon became prime targets for fighters. Even though the transports usually had a cover of Luftwaffe fighters, the Americans always broke through the protective umbrella and got at the slow and lumbering aircraft. On 18 April, 47 Warhawks from the 57th and 324th, launched from El Djem on a combat patrol with twelve Spitfires flying high cover. The transports were spotted flying very low in an attempt to avoid detection - there were over 90 of the vulnerable aircraft when they were spotted by the Warhawks.
The results of the aerial melee were amazing. In a dozen minutes the Warhawks and Spitfire had shot down 58 lumbering Junkers Ju 52 tri-motor transports, 14 Italian Macchi 202 fighters and four Bf 109s for the loss of six P-40Fs and a Spitfire. This was a stunning blow to the Germans but they continued their supply flights, each time losing more aircraft, until the losses made the operations impossible.
With the surrender of North Africa, it was time for the Allies to move on to other German strongholds in Sicily and Italy. One of the more interesting targets was the island of Pantelleria which became a target for Allied airpower in an experiment to see if an enemy stronghold could be forced to surrender as a result of aerial attack alone. For a month, Allied aircraft pounded Pantelleria day and night - reducing most of the island to rubble and the final result was just what the Allies wanted - the Germans surrendered on 11 June. The battle for Pantelleria thus went into the history books as the first enemy position to be overcome by airpower alone.
From Pantelleria, the Allies looked across the Mediterranean at Sicily - a prime target since it pointed straight up Italy into Occupied Europe. The Germans, of course, knew the strategic importance of Sicily and had heavily fortified the island while providing some of its top bomber and fighter units to operate off the island's airfields. Sardinia, another island 175 miles northwest of Sicily, was also a prime target for the Allies and the Mediterranean was about to see incredibly fierce aerial fighting. The P-40s were to be in the thick of it.
The battle for Sicily began on 10 July 1943, while strikes were also carried out against Sardinia during the same period. Major Robert Baseler, a pre-war Army Air Corps pursuit pilot and one of the war's outstanding individual pilots, had taken command of the 325th FG. A large and colorful man, Baseler, decided to extend his personality to the unit's aircraft by having their tails emblazoned with yellow and black checks, giving the unit the nickname "Checkertails." With the Luftwaffe contesting every inch of airspace above the islands, it was not long before the 325th entered action and an epic dogfight took place on 30 July when 20 P-40Fs engaged a large force of enemy fighters at low-level over Sardinia. The experienced P-40 pilots immediately tackled the swarm of 109s, many being flown by brand-new fighter pilots. The result was a slaughter. At low-level, the P-40 had a slight edge on the Messerschmitt and the American pilots were all experienced aviators with superior training so when the battle ended, 21 Messerschmitts had been knocked down for the loss of just one P-40F.
The 33rd FG had established an air base on Pantelleria where it was joined by a unique P-40 unit, the all-Negro 99th FS. With segregation being a common American practice at the time, it was decided that an all-black fighter squadron with black crewmen would be a good way to employ blacks in the war while not breaking the Army's strict color line. The 99th arrived at Casablanca during April 1943 with 27 new P-40Ns, the first of its type to reach North Africa. The P-40N (Curtiss Models H87V and H87W) was the final production version of the fighter and it was also produced in the largest numbers (5220 aircraft). Originally to have been powered by the Merlin and designated P-4OP, all attempts possible were made to reduce weight on the N and the results were successful since the P-40N became the fastest production P-40.
Home] [Nominal Roll 1940-45] [March Of The Gladiators] [Gladiators] [K Flight] [112 Sqdn Personnel] [Claims] [Bases 1939-1946 ] [Bill Barwick] [Plane Losses 1940 -45] [Prisoner of War] [In Memory of] [Operations Room Book] [ Log Book Extracts] [112 Plane Codes] [Memories] [Letters Home] [RAF Map Napoli 40/14] [[Allied Air Forces in MTO 1942/43]] [USAAF Honor Rolls 1942-1943 MTO] [US Dispatches] [Photos ]