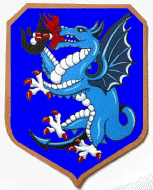 81st Fighter Group
Emblem:
Approved 2 Mar 1943, for use by the 81st Fighter Group
Significance:

The wingís mission is symbolized by the fabled fiery

dragon, a creature adopted in medieval times with the thought of intimidating

enemies. The dragonís breath of fire renders all opposition

useless, while the stylized boll weevil clutched in the dragonís claw is

suggestive of the enemy.

Motto:

Le Nom-Les Armes-La Louaute (The Name, The Arms, and Loyalty)

Source: http://www.armyairforces.com/dbgroups.asp?Group=102
81st Fighter Group (dragon was the 81st FG crest, had no Squadron patch's till mid 1950s)
Bestowed Honors. Authorized to display honors earned by the 81st Fighter Group prior to 1 May 1948.
Service Streamers. None.
Campaign Streamers. World War II: Algeria-French Morocco; Tunisia; Naples-Foggia; Anzio; Rome-Arno; Air Combat, EAME Theater; China Defensive, China Offensive.
Decorations. None.
Emblem
Or a dragon salient wings displayed and addorsed Azure armed and langued Gules, incensed proper, holding in its dexter claw a stylized boll weevil Sable.
Motto: LE NOM LES ARMES LA LOYAUTE - The name, the arms, and loyalty.
Approved for the 81st Group on 2 Mar 1943 and the 81st Wing on 14 May 1956 (152220 A.C.).

Men of the 81st FG date and location unknown to me
| | | |
| --- | --- | --- |
| Group | Group Type | Motto |
| 81st | Fighter | Le Nom - Les Armes - La Loyaute: The Name, The Arms, and Loyalty |
Sqdn
Code
Type
Dates
Comment
91st

Unknown

to me

Fighter
1942-1945
There were no approved squadron emblems for the 91st, 92 and 93rd FS during the early years

Leather patch used from May 44-Dec 45 P-47, CBI

Emblem: On a disc of thirteen alternating vertical stripes, white and red, a horizontal upper division blue. The disc piped yellow, thereon, a wing and a cloud, white, pierced with a lightning flash yellow. (Approved 14 Jun 1951.

92nd

Unknown

to me

Fighter
1942-1945

Unknown (to me) date of introduction

Emblem: An irregular shaped figure, divided palewise by cloud-like formation, yellow and ultramarine blue, charged in sinister segment with a white skull facing toward dexter, and having an orange lightning flash issuing from the mouth and a like flash from the eye, all within a border divided palewise, ultramarine blue and light green. (Approved 30 Jun 1945.)

93rd

Q

Fighter
1942-1945

Leather Patch Unknown (to me) date of introduction

Emblem: On a blue disc edged black, a white cloud; issuing from base, a snow-capped mountain peak; standing on the mountain peak and surmounting the cloud, a caricatured bird, black with gray head, breast and tail, Air Force golden yellow beak and talons, red eye and breast markings, his wings folded and supporting behind his back a heavy brown wooden club pierced with a "wicked-looking black spike; details black throughout. (Approved 6 Aug 1958.)
Aircraft

Type
Name
Manufacturer
Years
P-39
Airacobra
Bell
1942-1944
P-38
Lightning
Lockheed
1943-1944
P-40
Warhawk
Curtiss
1944
P-47
Thunderbolt
Republic

Black Left to Right Horizontal Bar

White Vertical Bar

1944-1945
P-47, 91FS, 81FG Hsian, China

History
Constituted as 81st Pursuit Group (Intercepter) on 13 Jan 1942. Activated on 9 Feb 1942. Redesignated 81st Fighter Group in May 1942. Trained with P-39's. Moved overseas, Oct 1942-Feb 1943, the ground echelon arriving, in French Morocco with the force that invaded North Africa on 8 Nov, and the air echelon, which had trained for a time in England, arriving in North Africa between late Dec 1942 and early Feb 1943. Began combat with Twelfth AF in Jan 1943. The 81st fought at Kasserine Pass, supported ground operations during the Allied drive against Axis forces in Tunisia. Patrolled the coast of Africa and protected Allied shipping in the Mediterranean Sea, Apr-Jul 1943. Provided cover for the convoys that landed troops on Pantelleria on II Jun and on Sicily on 10 Jul 1943. Supported the landings at Anzio on 22 Jan 1944 and flew patrols in that area for a short time. Moved to India, Feb-Mar 1944, and began training with P-40 and P-47 aircraft. Moved to China in May and became part of Fourteenth AF. Continued training and on occasion flew patrol and escort missions before returning to full-time combat duty in Jan 1945. Attacked enemy airfields and installations, flew escort missions, and aided the operations of Chinese ground forces by attacking troop concentrations, ammunition dumps, lines of communications, and other targets to hinder Japanese efforts to move men and materiel to the front. Inactivated in China on 27 Dec 1945.
Campaigns
Air Combat, EAME Theater, China Defensive, China Offensive, Algeria-French Morocco, Tunisia, Sicily, Naples-Foggia, Anzio, Rome-Arno,
Stations

Name
Dates
Morris Field, NC
Feb 1942
Dale Mabry Field, FL
c. 1 May 1942
Muroc, CA

c. 28 Jun-4 Oct 1942

SUNDAY, 27 SEPTEMBER 1942, EUROPEAN THEATER OF OPERATIONS (ETO) Twelfth Air Force: Following a series of command changes between 16 and 27 Sep, Brigadier General Thomas W Blackburn becomes Commanding General XII Fighter Command. The War Department assigns to the XII Air Support Command the units which are to constitute its force for the invasion of N Africa: the 5th Bombardment Wing [47th Bombardment Group (Light) and 68th Observation Group], the 7th Fighter Wing (33d and 81st Fighter Groups), and 10 signal, service, and engineer units of various sizes.

TUESDAY, 10 NOVEMBER 1942, NW AFRICA (Twelfth Air Force):The 92d Fighter Squadron, 81st Fighter Group, arrives at Port Lyautey, French Morocco from the US with P-39s.

Mediouna, French Morocco

c. 5 Jan 1943, SUNDAY, 3 JANUARY 1943, WESTERN MEDITERRANEAN (Twelfth Air Force):The 91st Fighter Squadron, 81st Fighter Group with P-39s, moves from Fedala to Mediouna, French Morocco.

TUESDAY, 5 JANUARY 1943, WESTERN MEDITERRANEAN (Twelfth Air Force) HQ 81st Fighter Group is established at Mediouna, French Morocco upon arrival from the US. The group's 92d Fighter Squadron with P-39s is established at Port Lyautey, French Morocco.

In an organizational change, Allied Air Force is activated to have operational control of Allied air units in Northwest Africa. The new unit includes the USAAF Twelfth Air Force, the RAF Eastern Air Command and such French air units as might be assigned or attached to it. The command serves under the direction of Lieutenant General Dwight Eisenhower, Commander-in-Chief, Allied Forces. The USAAF system of area commands in Northwest Africa is reorganized. HQ Twelfth Air Force announces that the Moroccan, West Algerian and Central Algerian Composite Wings (Provisional) are to be replaced by the 2d, 1st and 3d Air Defense Wings, respectively, when they arrive in the theater.

Thelepte, Tunisia

22 Jan 1943

TUESDAY, 12 JANUARY 1942, WESTERN MEDITERRANEAN (Twelfth Air Force): The 92d Fighter Squadron, 81st Fighter Group with P-39s transfers from Mediouna, French Morocco to Thelepte, Tunisia.

FRIDAY, 22 JANUARY 1943, WESTERN MEDITERRANEAN (Twelfth Air Force) HQ 81st Fighter Group transfers from Mediouna, French Morocco to Thelepte, Tunisia.

SATURDAY, 23 JANUARY 1943, WESTERN MEDITERRANEAN (Twelfth Air Force), The 91st Fighter Squadron, 81st Fighter Group with P-39s transfers from Mediouna, French Morocco to Thelepte, Tunisia.

Le Kouif Airfield, Algeria

17 Feb 1943

WEDNESDAY, 17 FEBRUARY 1943, WESTERN MEDITERRANEAN (Twelfth Air Force): The Twelfth Air Force and other organizations of the Allied Air Force are transferred to the North African Air Force (NAAF) which supplants the Allied Air Force. NAAF, in turn, becomes part of the Mediterranean Air Command (MAC), a new air command which comes into existence on this date with RAF Air Chief Marshall Arthur Tedder as commander. MAC also includes the RAF Middle East Air Command (later RAF, Middle East) and the RAF Malta Air Command (later RAF, Malta). The Commanding General of NAAF is General Carl Spaatz, USAAF. The two airfields at Thelepte, with 124 operational aircraft on the, are abandoned because of the German advance. Eighteen unflyable aircraft are burned after 60,000 gallons (227,100 liters) of aviation fuel are poured on them. HQ 81st Fighter Group and its 91st and 92d Fighter Squadrons with P-39s transfer from Thelepte, Tunisia to Le Kouif Airfield, Algeria.

FRIDAY, 19 FEBRUARY 1943, WESTERN MEDITERRANEAN (North African Air Force) The 93d Fighter Squadron, 81st Fighter Group with P-39s transfers from Port Lyautey, French Morocco to Berteaux, Algeria.

Youks-les-Bains, Algeria

22 Feb 1943 WESTERN MEDITERRANEAN (North African Air Force)

MONDAY, 22 FEBRUARY 1943, HQ 81st Fighter Group and its 91st and 92d Fighter Squadrons with P-39s transfer from Le Kouif Airfield, Algeria to Youks-les-Bains, Algeria.

Le Kouif Airfield, Algeria

24 Feb 1943 WESTERN MEDITERRANEAN (North African Air Force)

WEDNESDAY, 24 FEBRUARY 1943, HQ 81st Fighter Group and its 91st and 92d Fighter Squadrons with P-39s transfer from Youks-les-Bains, Algeria to Le Kouif Airfield, Algeria reversing a move made last Wednesday.

Thelepte, Tunisia

c. Mar 1943, FRIDAY, 5 MARCH 1943, HQ 81st Fighter Group transfers from Le Kouif Airfield, Algeria to Thelepte, Tunisia.

SATURDAY, 6 MARCH 1943, The 92d and 93d Fighter Squadrons, 81st Fighter Group with P-39s transfer from Le Kouif Airfield, Algeria to Thelepte, Tunisia.

WEDNESDAY, 10 MARCH 1943, The 93d Fighter Squadron, 81st Fighter Group with P-39s transfers from Berteaux, Algeria to Youks-les-Bains, Algeria.

MONDAY, 29 MARCH 1943, WESTERN MEDITERRANEAN (Northwest African Air Force), The 92d Fighter Squadron, 81st Fighter Group with P-39's transfers from Thelepte, Tunisia to Youks-les-Bains, Algeria.

Algeria

c. 3 Apr 1943

SATURDAY, 3 APRIL 1943, HQ, 81st Fighter Group and its 93d Fighter Squadron with P-39's transfer from Thelepte, Tunisia to Bone, Algeria to patrol the coast of Africa and protect Allied shipping in the Mediterranean.

MONDAY, 5 APRIL 1943, Today starts Operations FLAX (5-22 Apr) which is designed to destroy, in the air and on the ground, enemy air transports and escorts employed in ferrying personnel and supplies to Tunisia.

TUESDAY, 6 APRIL 1943, The 92d Fighter Squadron, 81st Fighter Group with P-39's transfers from Youks-les-Bains, Algeria to Maison Blanche, Algeria.

TUESDAY, 11 MAY 1943, WESTERN MEDITERRANEAN (Northwest African Air Force), The 92d Fighter Squadron, 81st Fighter Group, with P-39's, transfers from Maison Blanche, Algeria to Warnier, Algeria.

Monastir, Tunisia

c. 26 May 1943, SATURDAY, 22 MAY 1943, WESTERN MEDITERRANEAN (Northwest African Air Force), The 93d Fighter Squadron, 81st Fighter Group transfers with P-39's from Bone, Algeria to Monastir, Tunisia.

SUNDAY, 23 MAY 1943, WESTERN MEDITERRANEAN (Northwest African Air Force), The 91st Fighter Squadron, 81st Fighter Group transfers with P-39's from Bone, Algeria to Sfax, Tunisia.

WEDNESDAY, 26 MAY 1943, WESTERN MEDITERRANEAN (Northwest African Air Force), HQ 81st Fighter Group transfers from Algeria to Monastir, Tunisia.

Sidi Ahmed, Tunisia
10 Aug 1943
Castelvetrano, Sicily
12 Oct 1943
Montecorvino Airfield, Italy
c. Feb 1944
Karachi, India
c. 2 Mar 1944
Kwanghan, China
12 May 1944
Fungwansham, China
Feb 1945
Huhsien, China
Aug-Dec 1945

Commanders

| | |
| --- | --- |
| Name | Dates |
| Unknown | Feb-May 1942 |
| Capt Harry E Hammond | 5 May 1942 |
| Capt John D Sureau | 10 May 1942 |
| Lt Col Paul M Jacobs | 22 May 1942 |
| Lt Col Kenneth S Wade | c. Jul 1942 |
| Col Philip B Klein | May 1943 |
| Lt Col Michael Gordon | 2 Jul 1943 |
| Maj Frederick S Hanson | 15 Jul 1943 |
| Col Philip B Klein | 26 Aug 1943 |
| Lt Col Fred G Hook Jr | 27 Sep 1944 |
| Col Oliver G Cellini | 24 Oct 1944-unkn |
Home] [Nominal Roll 1940-45] [March Of The Gladiators] [Gladiators] [K Flight] [112 Sqdn Personnel] [Claims] [Bases 1939-1946 ] [Bill Barwick] [Plane Losses 1940 -45] [Prisoner of War] [In Memory of] [Operations Room Book] [ Log Book Extracts] [112 Plane Codes] [Memories] [Letters Home] [RAF Map Napoli 40/14] [[Allied Air Forces in MTO 1942/43]] [USAAF Honor Rolls 1942-1943 MTO] [US Dispatches] [Photos ]

†